Whilst not quite the 12 days of Christmas, there was certainly a festive flavour. Chinese New Year. Offices shut for more than a week. Damn cold weather to escape from. Elevation to seek. All away from Shanghai.
That formed the main basis of the plan. Yunnan the ideal starting point, allowing a progressive warm up, and climb up through Indochina; culminating in some r&r in the UNESCO world heritage town of Luang Prabang. As well as hoping that the welcoming in of the Year of the Rooster, would not disrupt plans too much.
Nine days seemed about right to cover just under 1,200km, navigate a couple of border crossings and 15,000m of climbing.
Day 1 Kunming to Tonghai, 120km, 1,000m
We figured rather than overnighting in Kunming, we'd take the early flight out of Shanghai and ride straight out that day, as long as too ambitious a target wasn't set for day one.
Being self supported made for one of the lightest airport check-ins. Despite that Spring still tried to hammer the excess for them being bikes, before bearing the brunt of Alex's negotiation skills.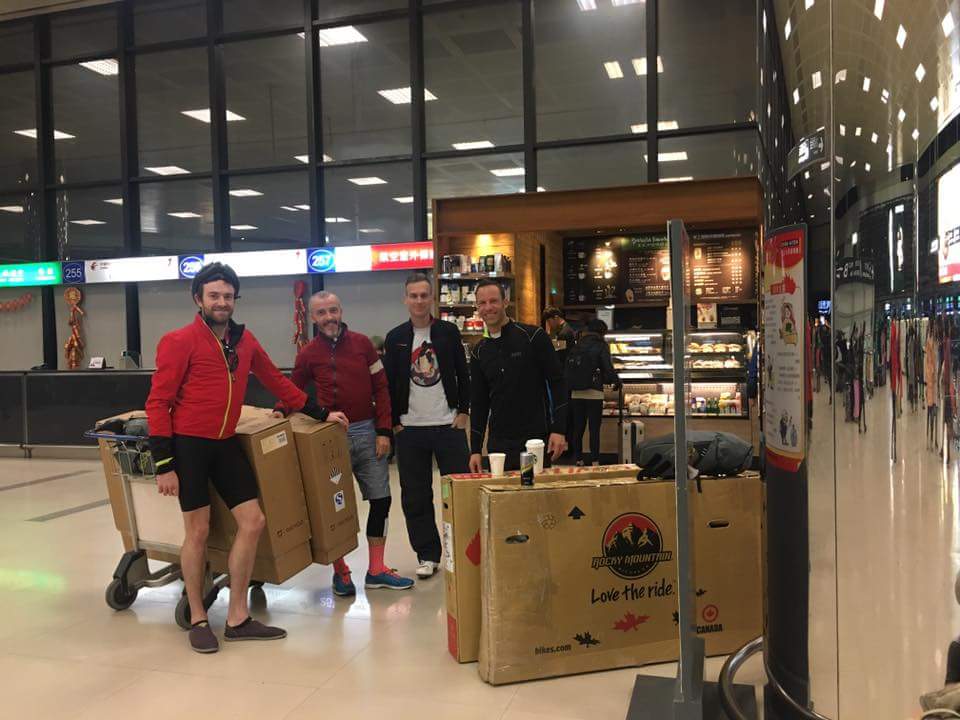 A man with a van was secured at the airport and we were soon assembling bikes at a random junction on the southern outskirts of Kunming.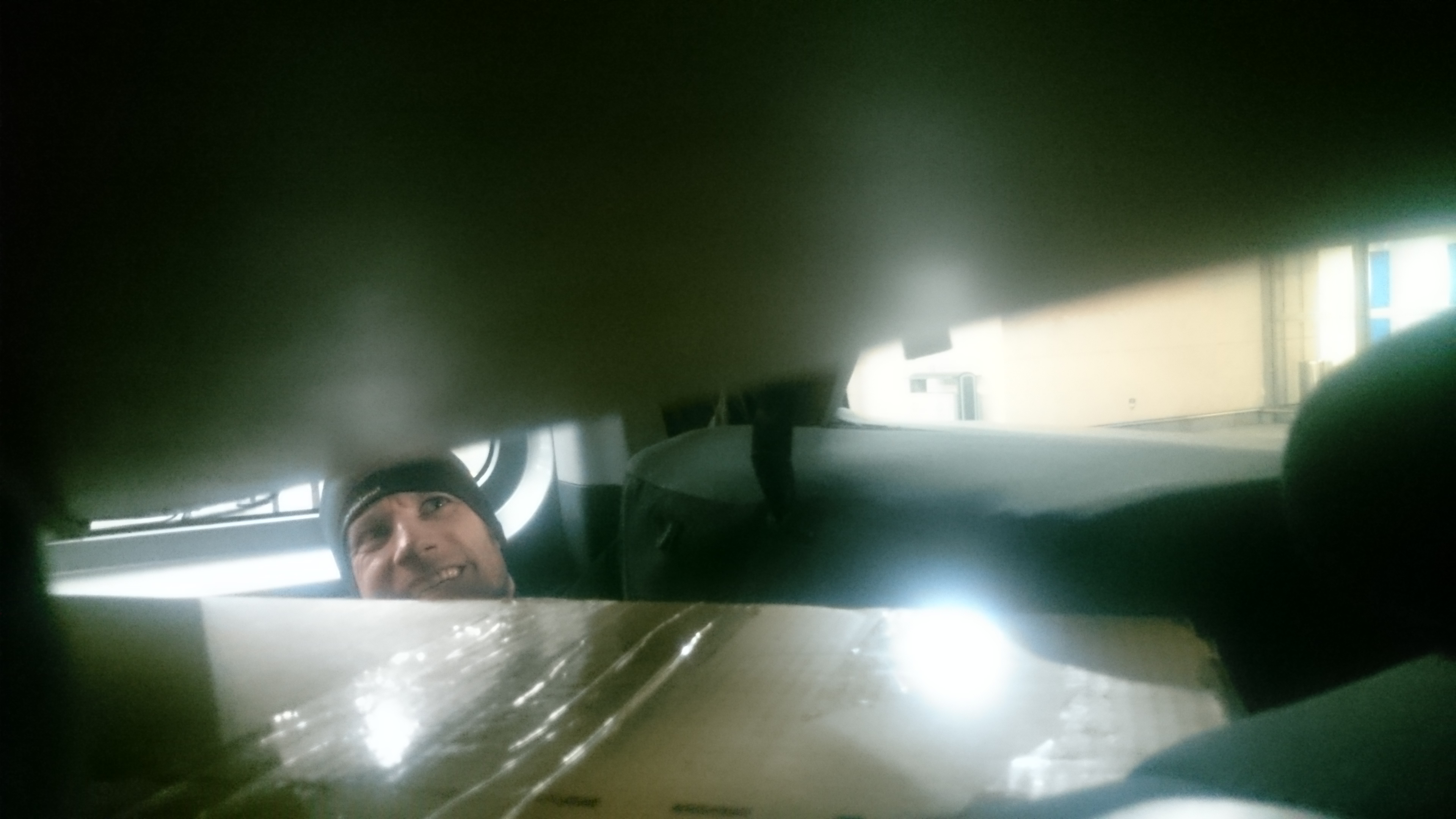 Although we were well fed from the airport, it did have impact on timings and we were only on the road at 15.00.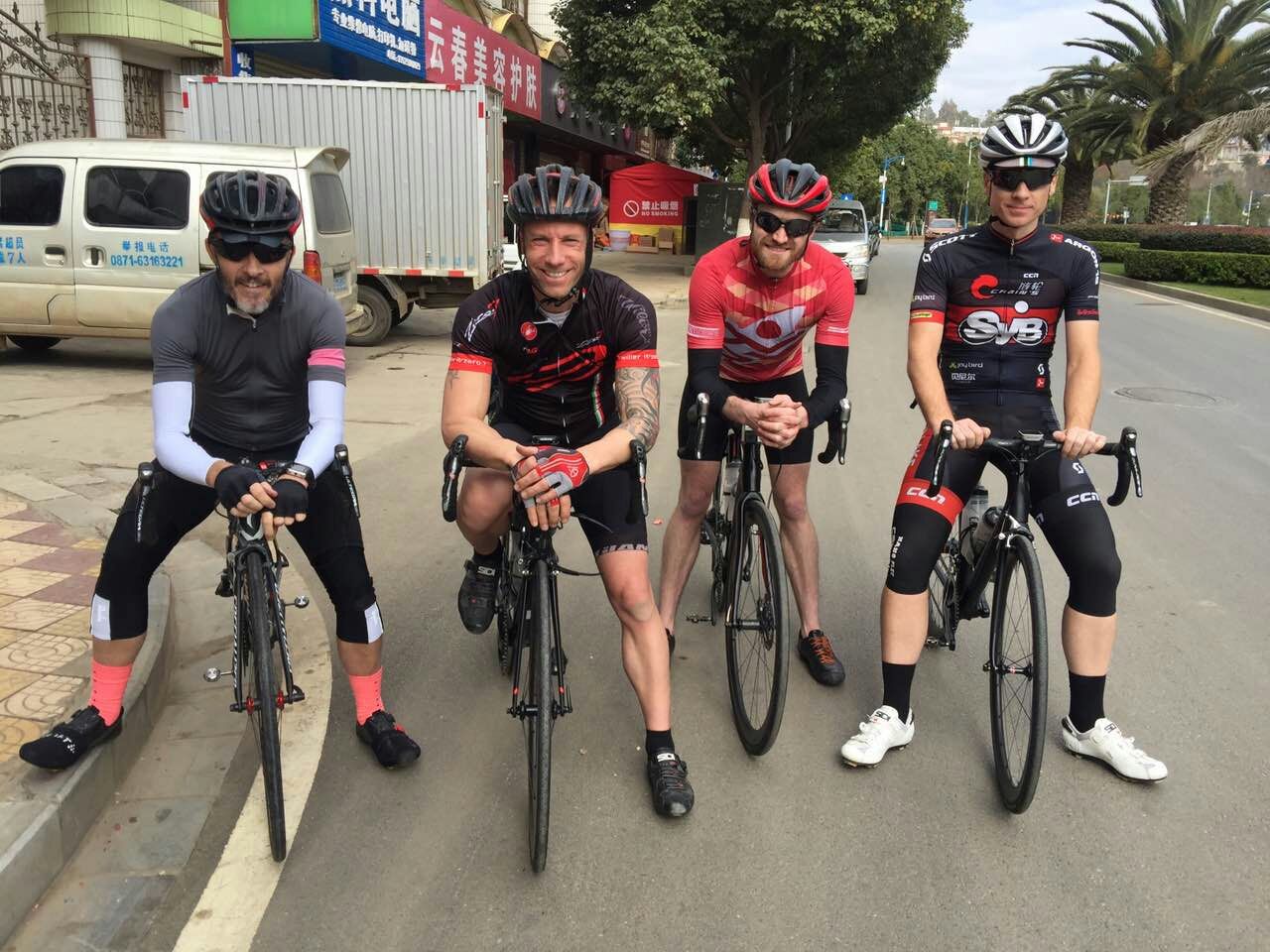 What should have been a relatively straightforward first day down past Fuxian Hu and into Tonghai, was impacted by Stefan's seat collar fail.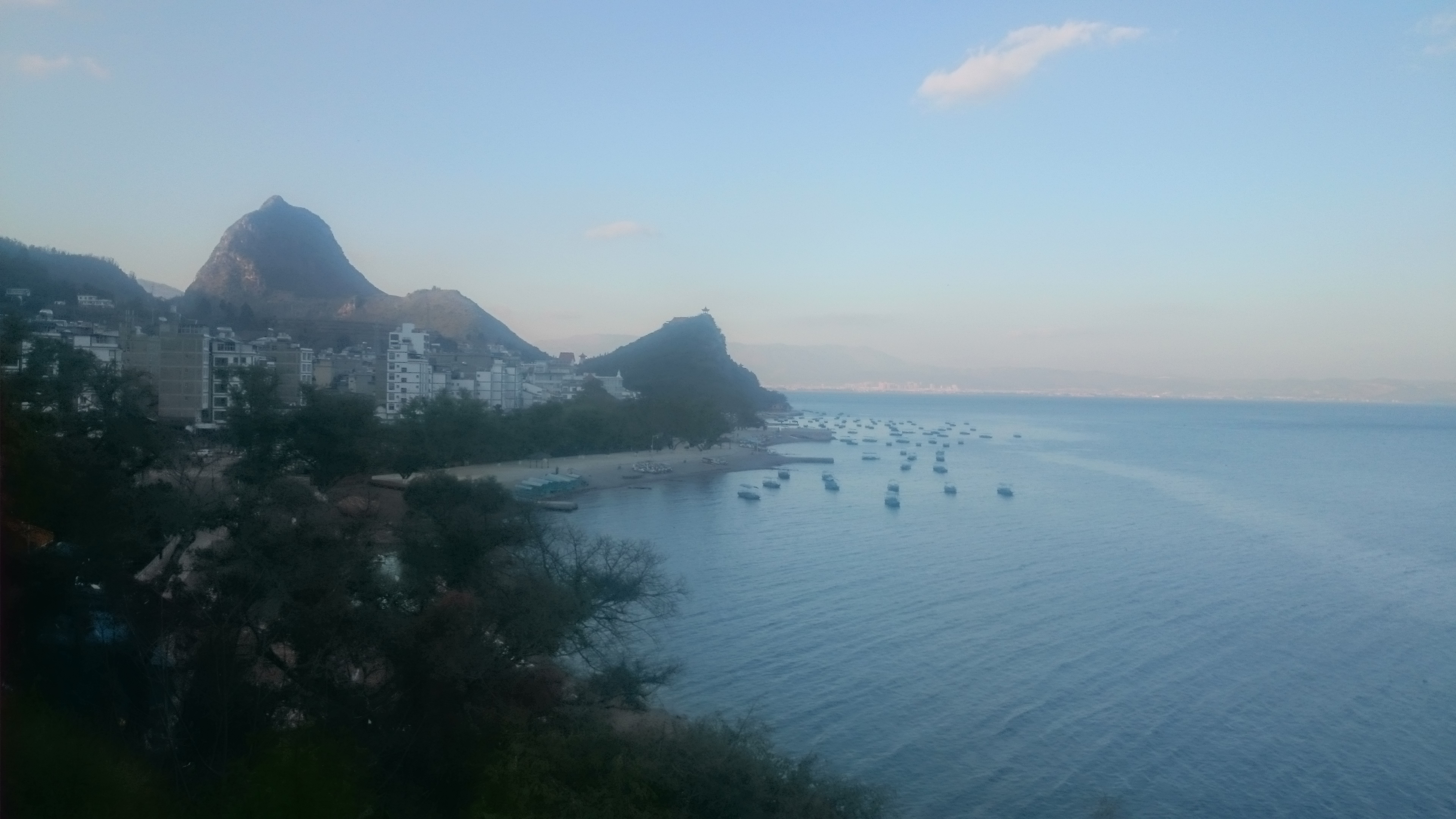 He subsequently accosted a young lad on an MTB and secured his quick release collar as a replacement, for a princely sum.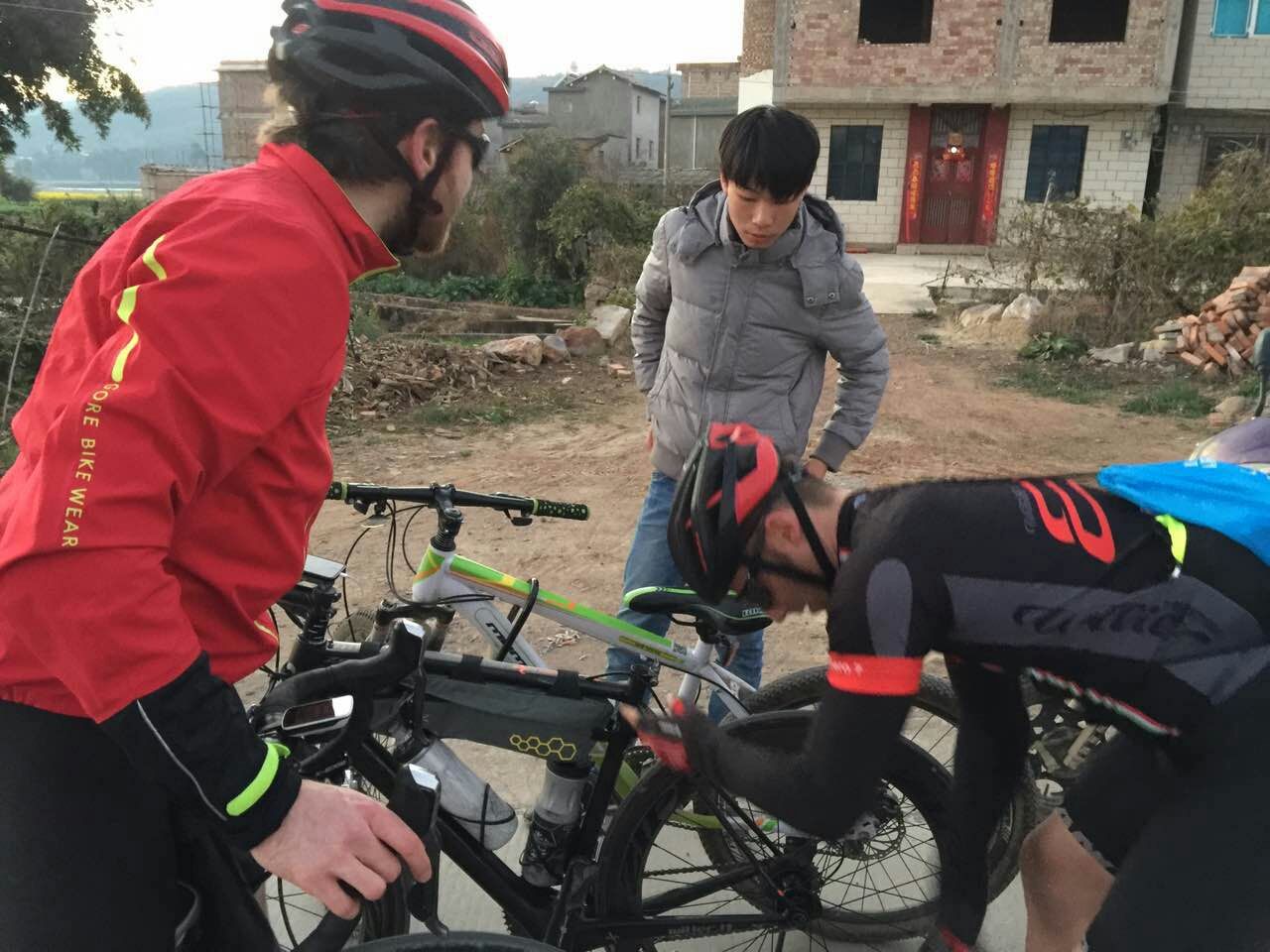 This put us a little further behind schedule and when we rolled into a tiny village for drinks, only to be greeting by a Kenyan man, visiting his in-laws, his invitation to stay and enjoy CNY with his extending family was tempting.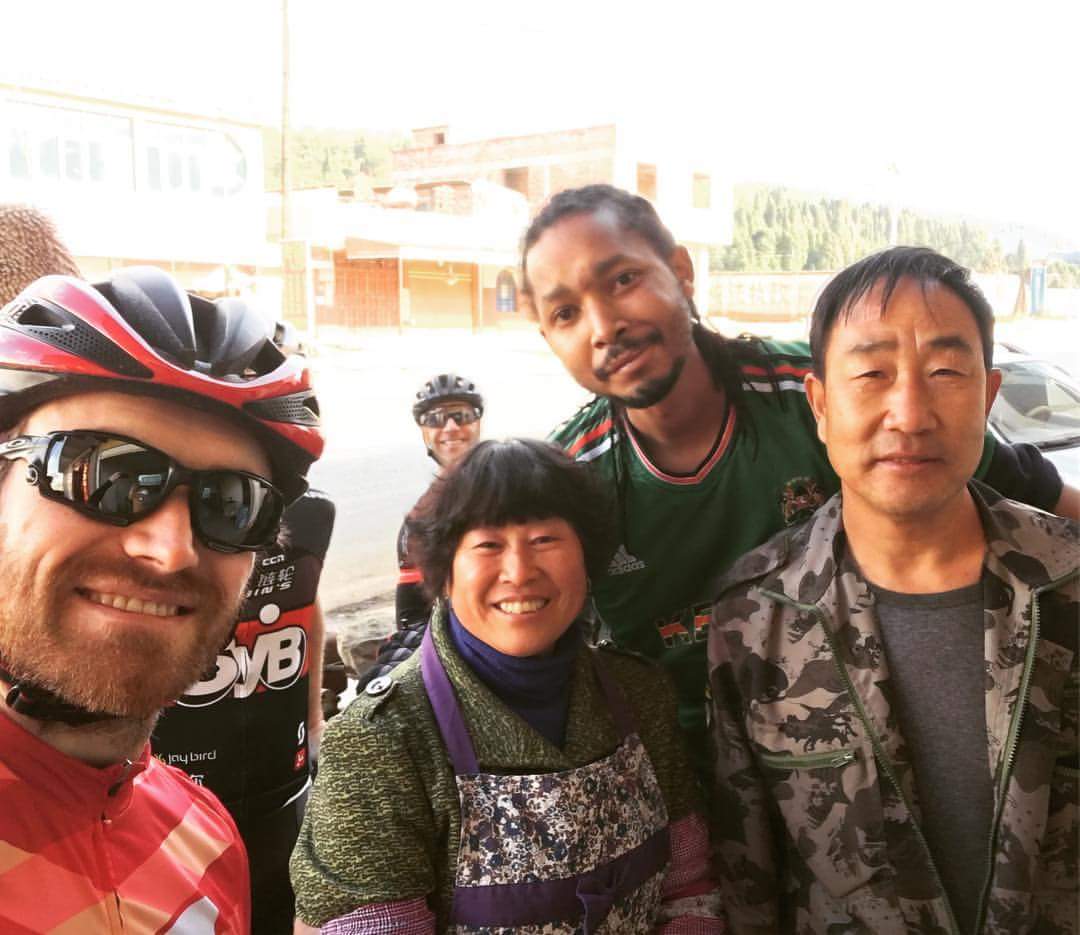 However, losing km's on only the first day wasn't an option, so we pushed on for Tonghai and rocked up at 21.00 after a rather dark climb and descent into the town itself.
Day 2 Tonghai to Yuanyang, 155km, 1,300m 
The first day hadn't been as cold as feared and we knew the second day was going to improve too. With Kunming at 2,000m altitude, we were also eagerly awaiting the big downhill that the route planner promised; that would take us down to the lower altitudes of southern Yunnan.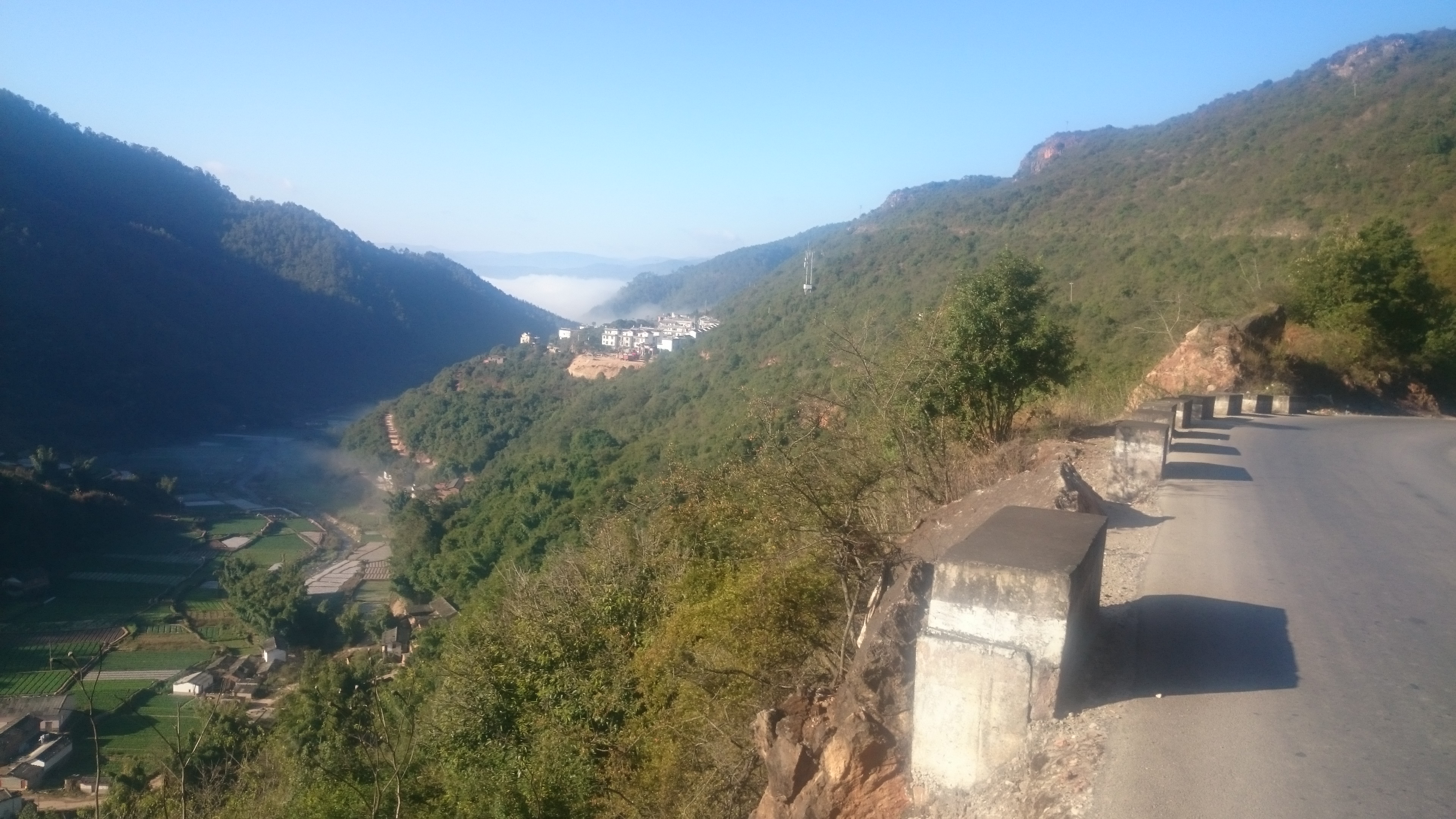 As such, we were still above the clouds when we started the day, with some spectacular views of the valley below, all the way down to Qujiang. With it being CNY, it was only a matter of time before we hit our first dragon dance.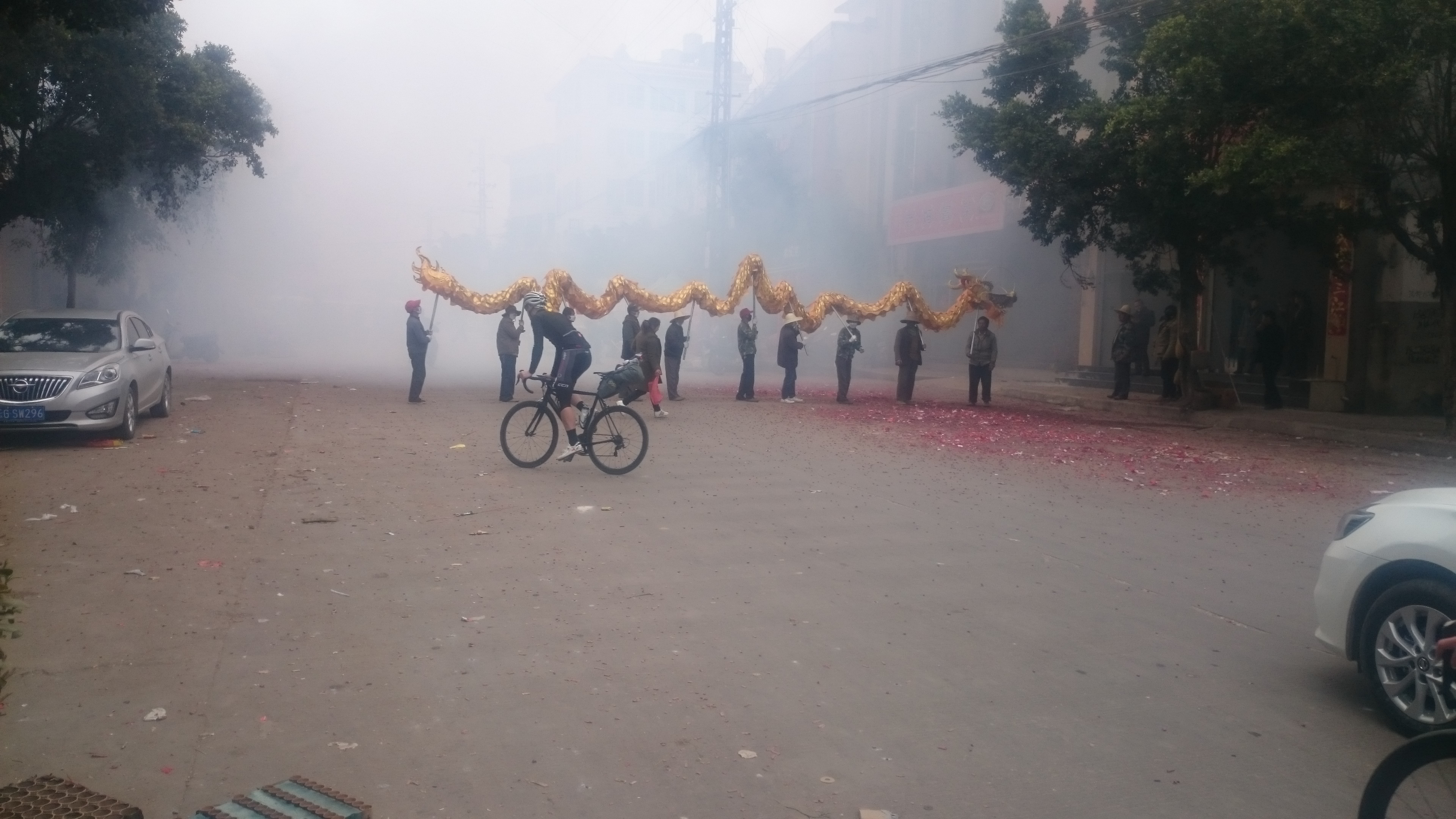 Sadly luck was not with us and the road deteriorated quite badly thereafter.
Spring festival also made for light traffic. With the prospect of falling behind schedule, we decided to take advantage of this downtime and nip onto the highway, down to the ancient town of Jianshui. The speedfest that ensued soon got us back in track and offered a welcome respite to the rears.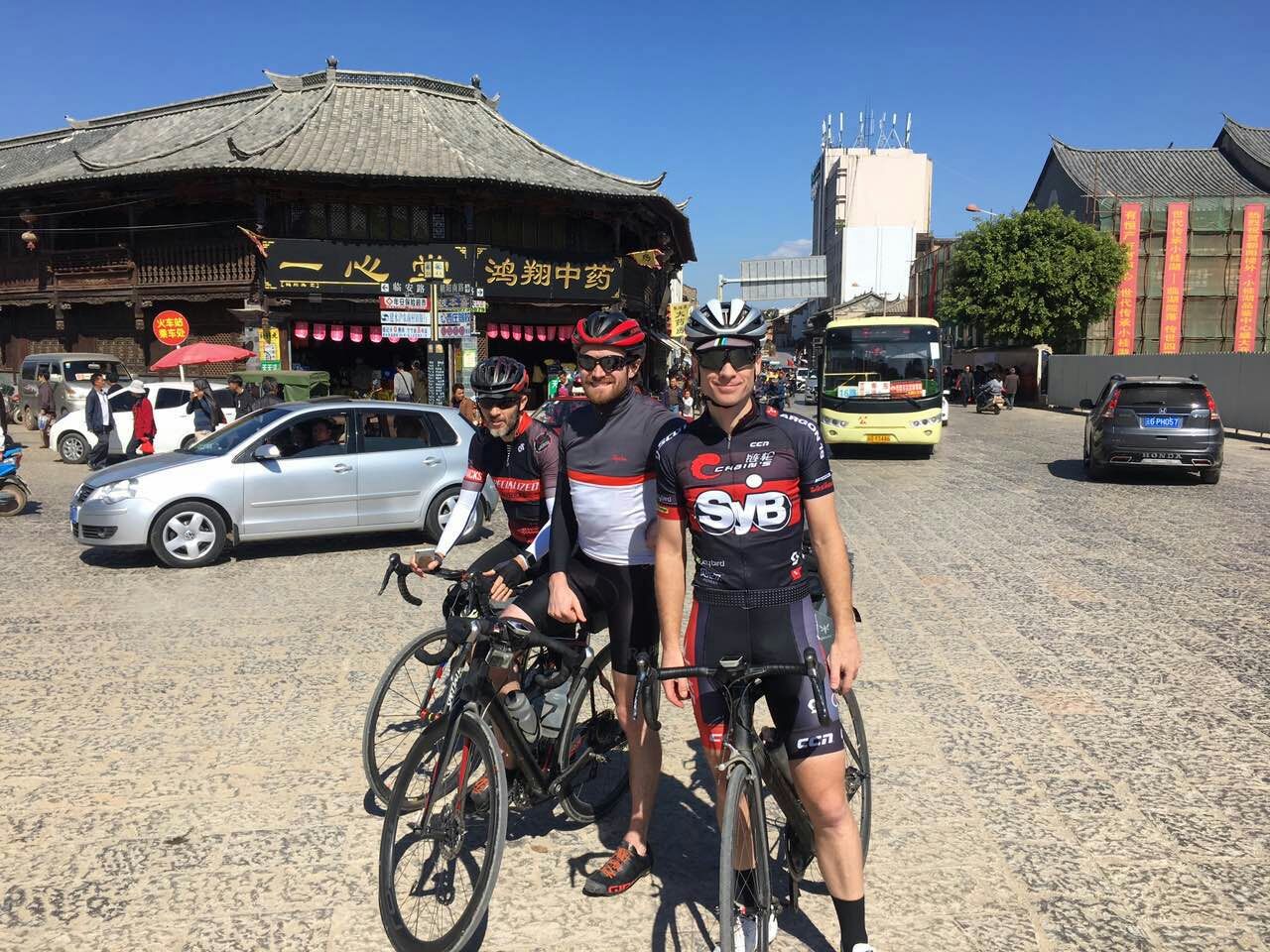 The ancient town appeared to have been recently made ancient, in true Chinese fashion, with more 'ancient' areas under construction.
A little climbing ensued after lunch, but finally after 110km we crested the last pass of the day, knowing that we would soon be dropping from 2,000 to just 300m and more warmth.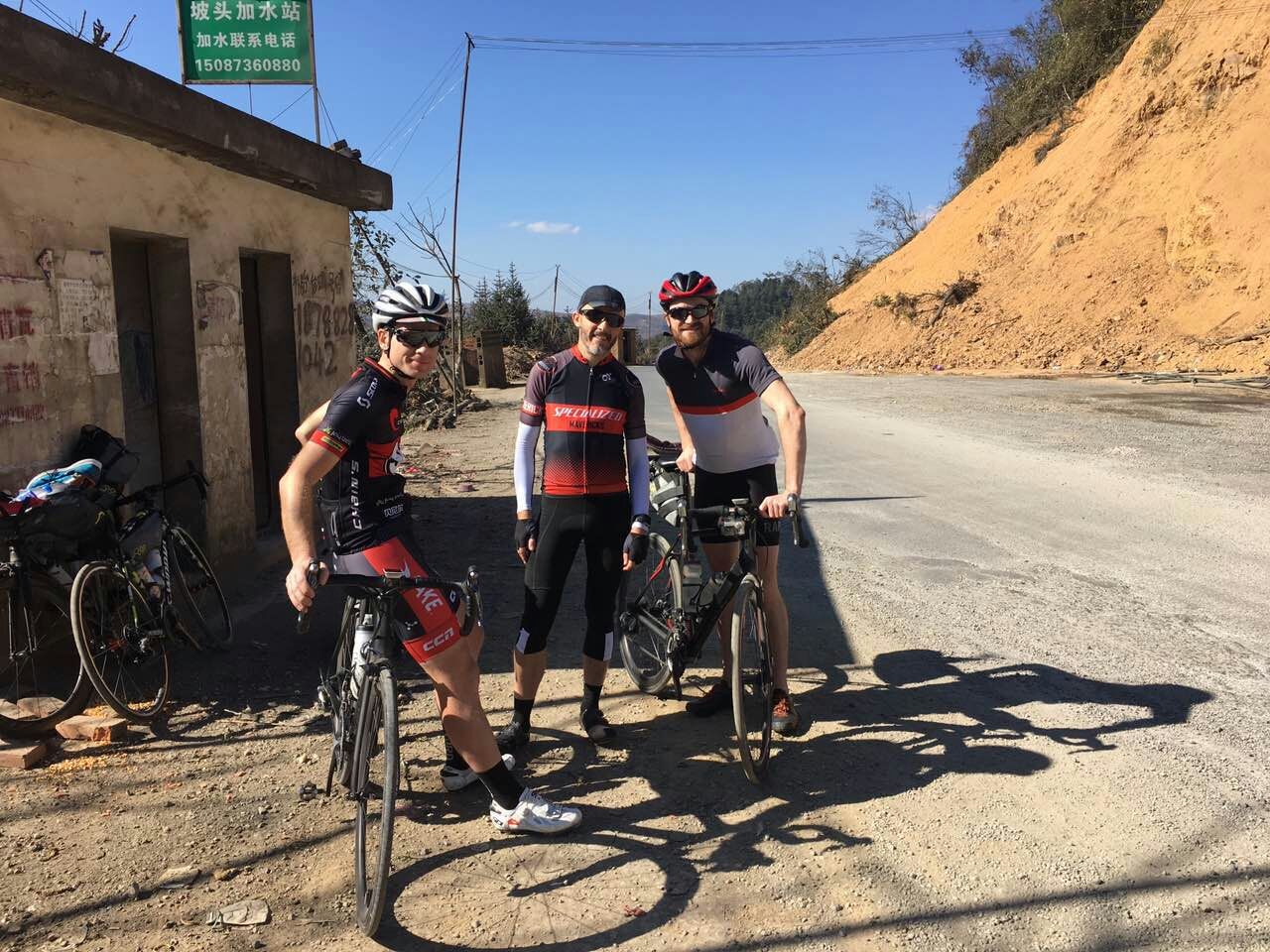 At Yuanyang, there had been an option to climb 2,000m back up to the Honghe Hani Rice Terraces, but we opted to save that for another trip.
Day 3 Yuanyang to Sapa, 195km, 2,600m
With Ed a little tighter on time for the trip, compared to the rest of us, we opted to combine the scheduled day 3 and 4. Distance looked manageable, but there would be a sting in the tail, once we crossed the border into Vietnam.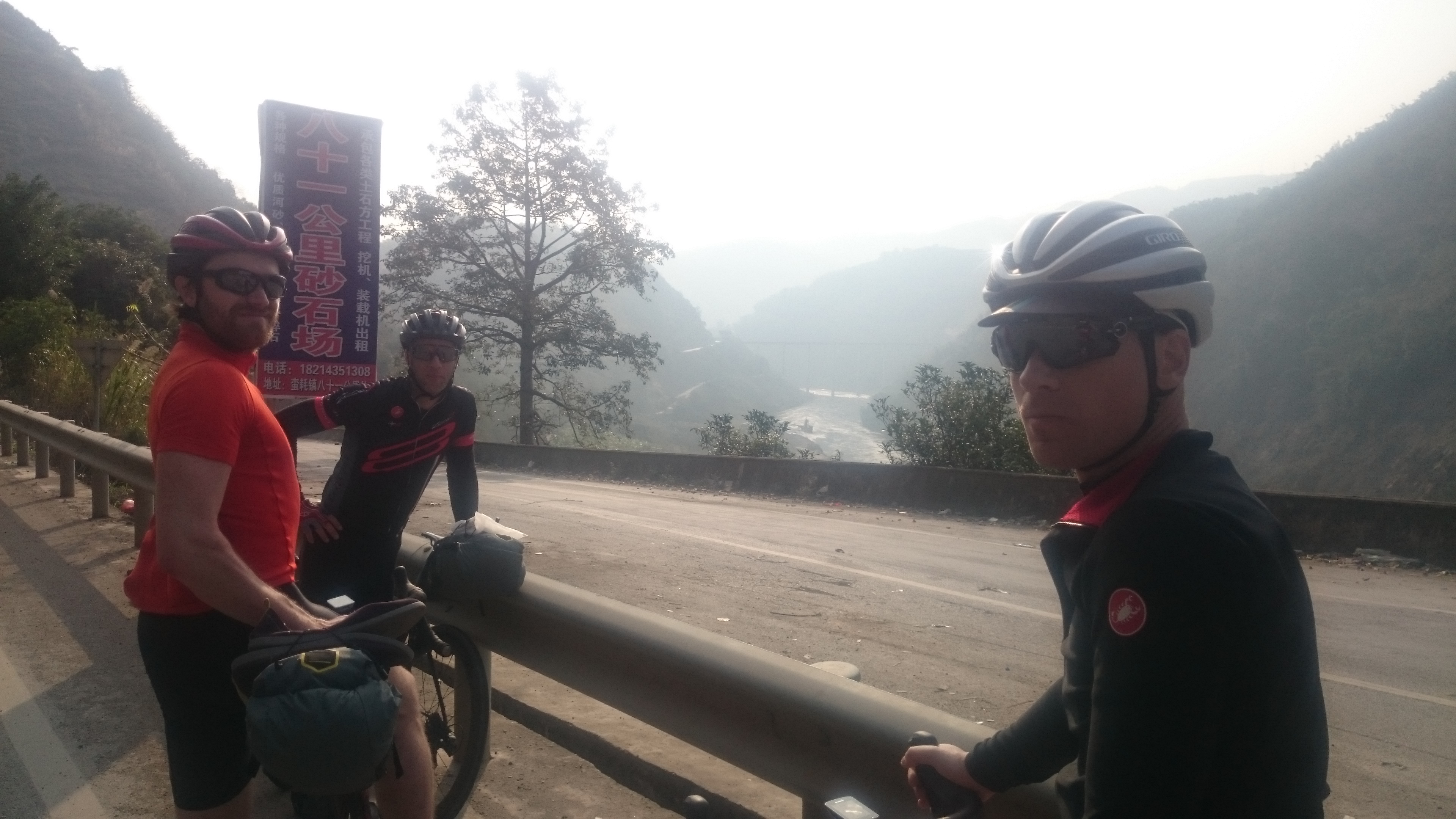 The final leg in China was a solid paceline along the Hong He, with Ed and Alex putting in some solid pulls. The Red River would eventually form the border with Vietnam.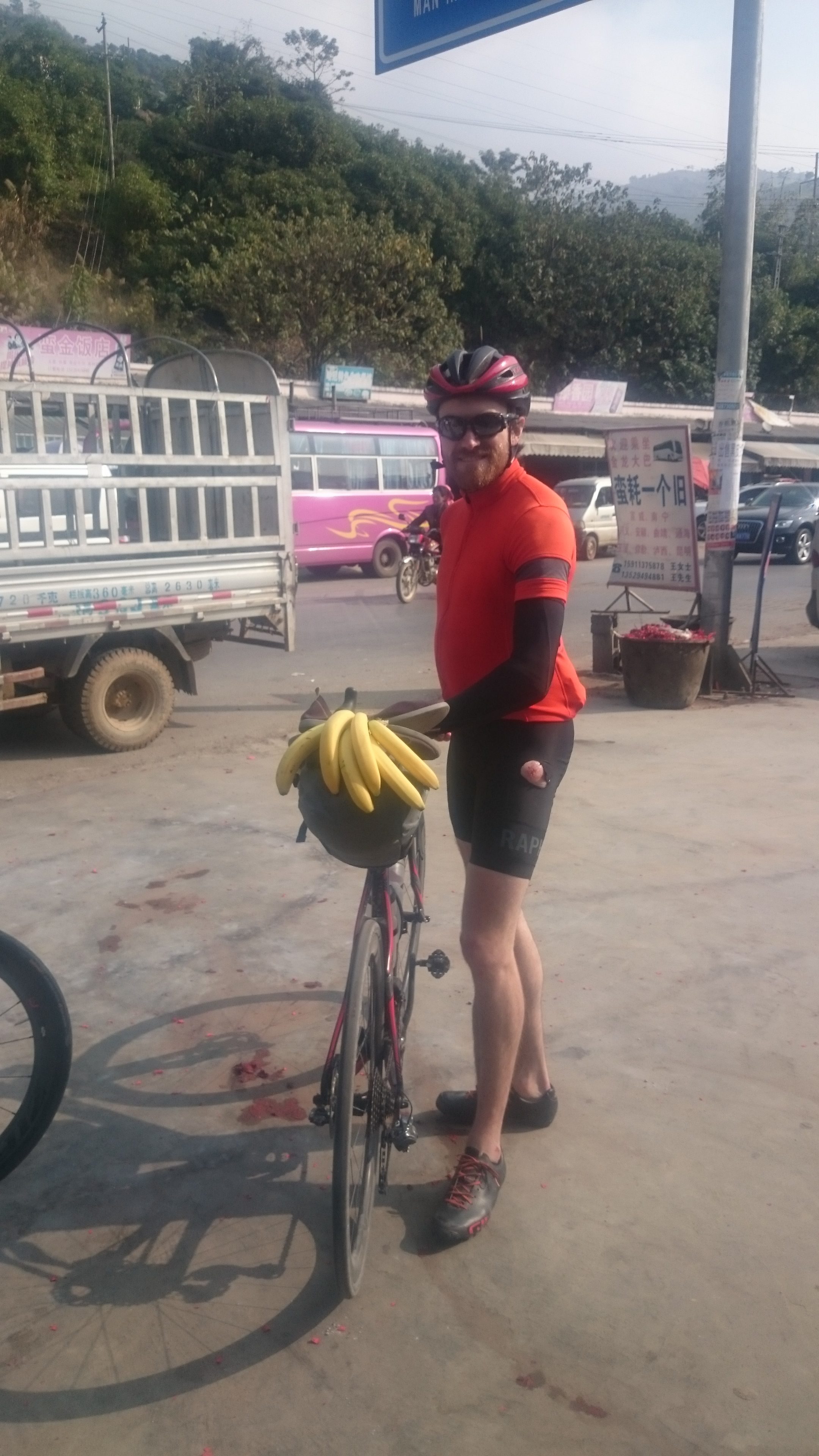 It was also easy to witness the change in the ethnic landscape, with less and less Han faces, replaced by those of the Yi and Hani hill tribes that dominate the area. Tropical fruit became far more prevalent with the street side vendors offering plenty of pineapples and bananas.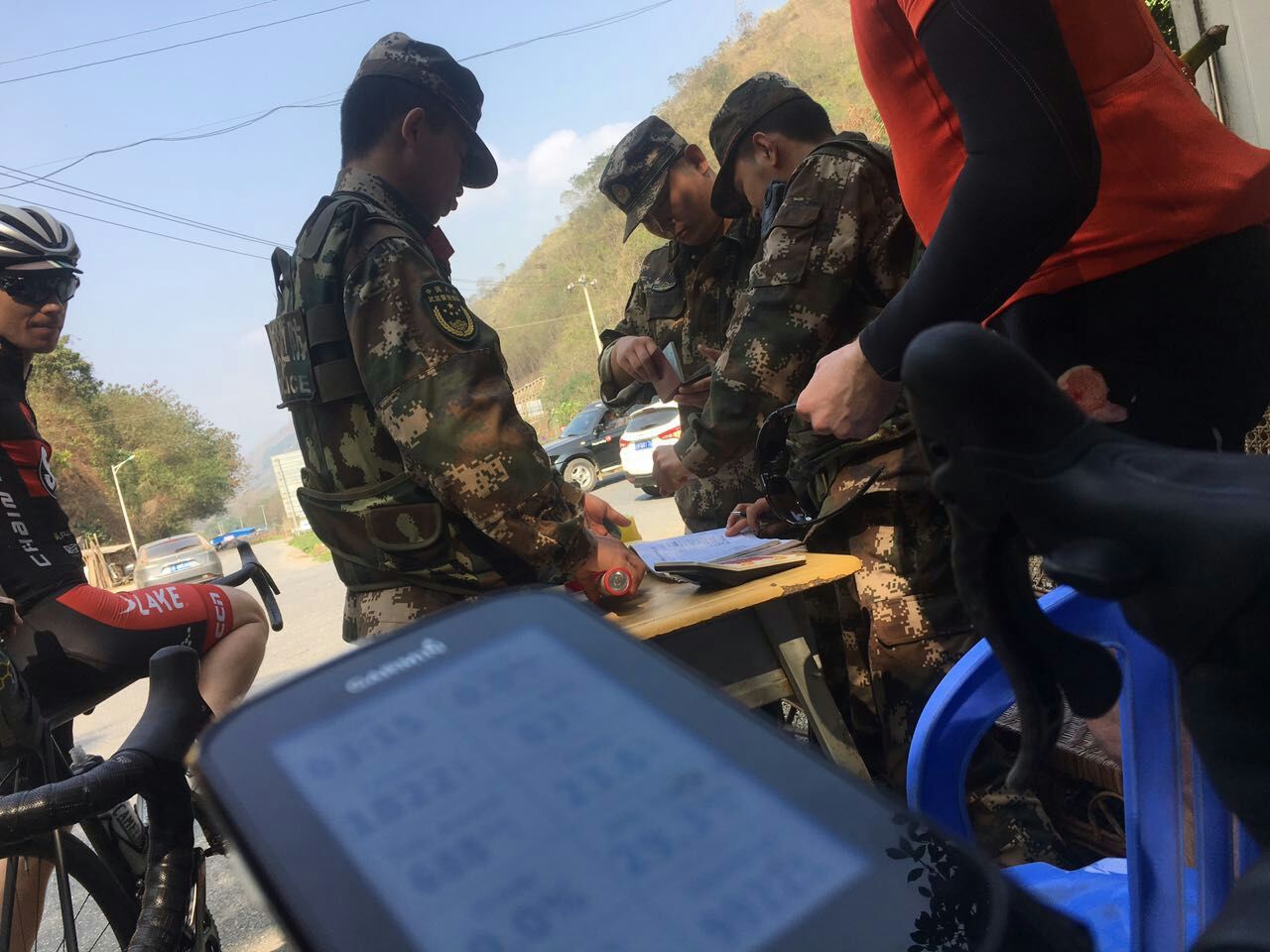 Despite a couple of security checks as we got closer to the border, we soon spotted a Vietnamese flag on the opposite bank of the Hong He, knowing we only had another 50km to the border at Hekou.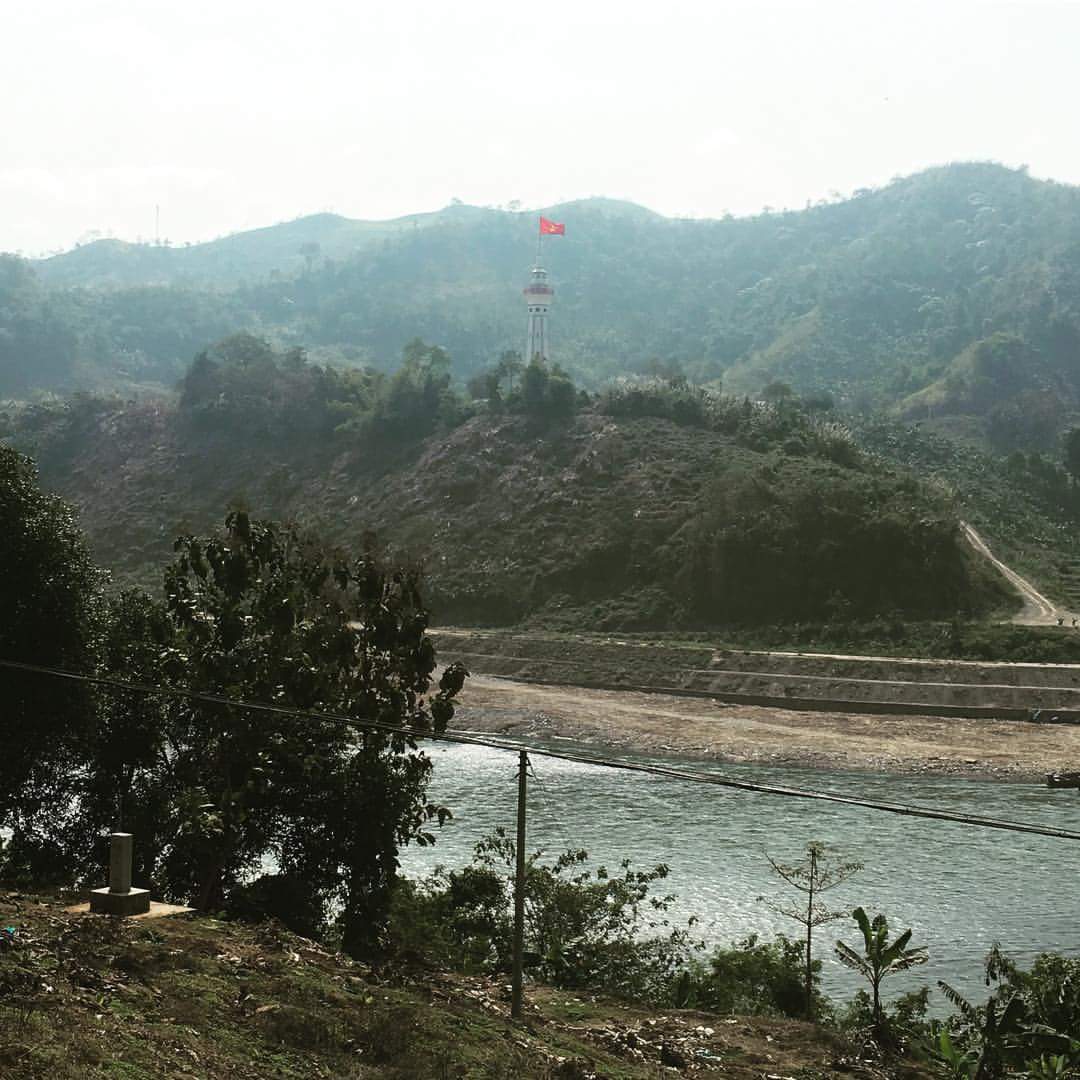 The border crossing was seamless on both sides and we soon found ourselves sitting in Lao Cai, slurping phos, patently waiting for the drip coffee to accumulate, whilst we pondering the final leg of the day.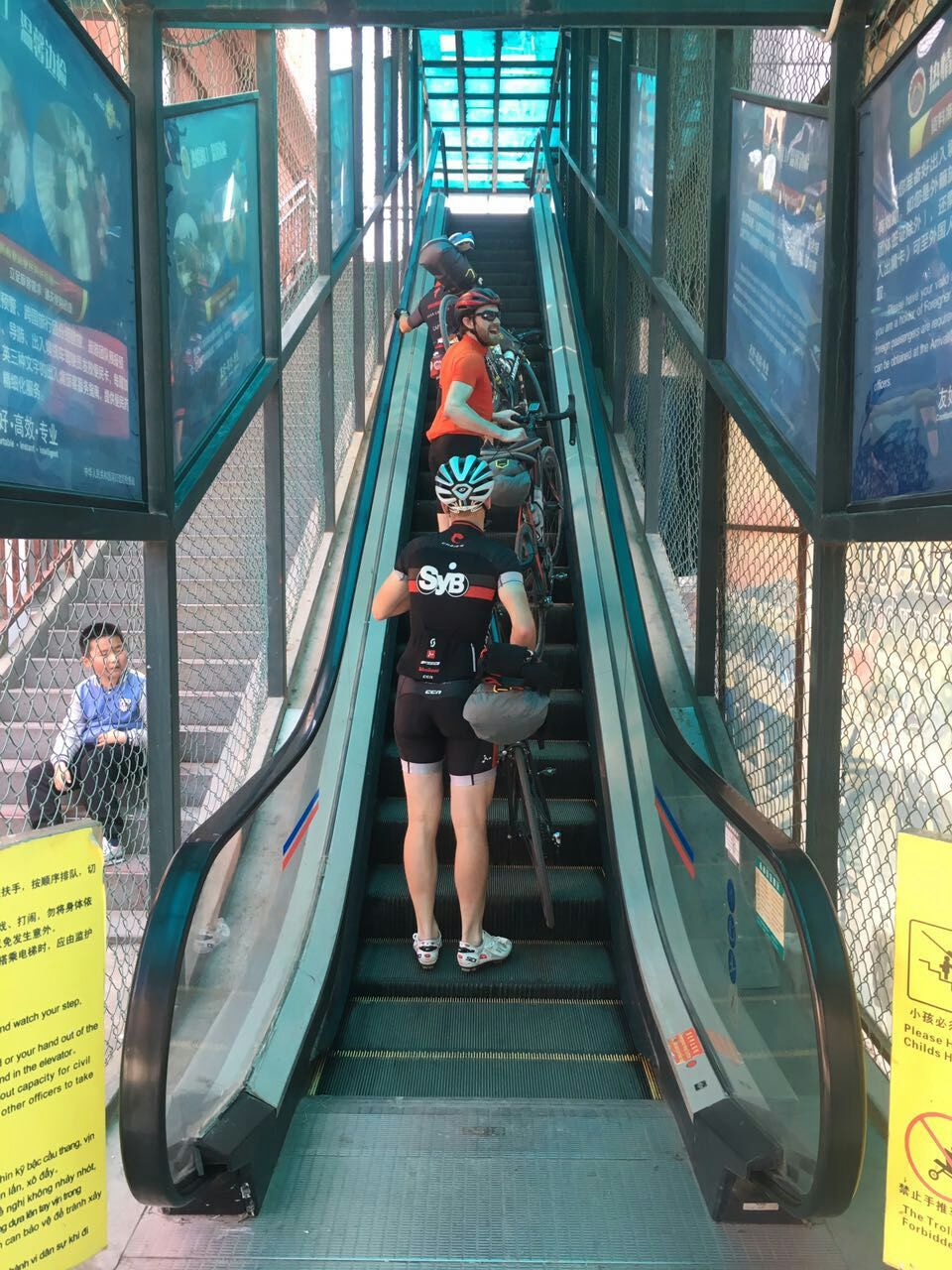 We only had 35km left, but that included the 25km climb up to the old French hill station of Sapa. There were going to be no records broken, as every man was left for himself.  With 160km in the legs,  it was also the first time the 'luggage' became noticeable. Fortunately, the French had done a fine job with the switchbacks, so within 2 hours we were all enjoying the cooler climes of Sapa.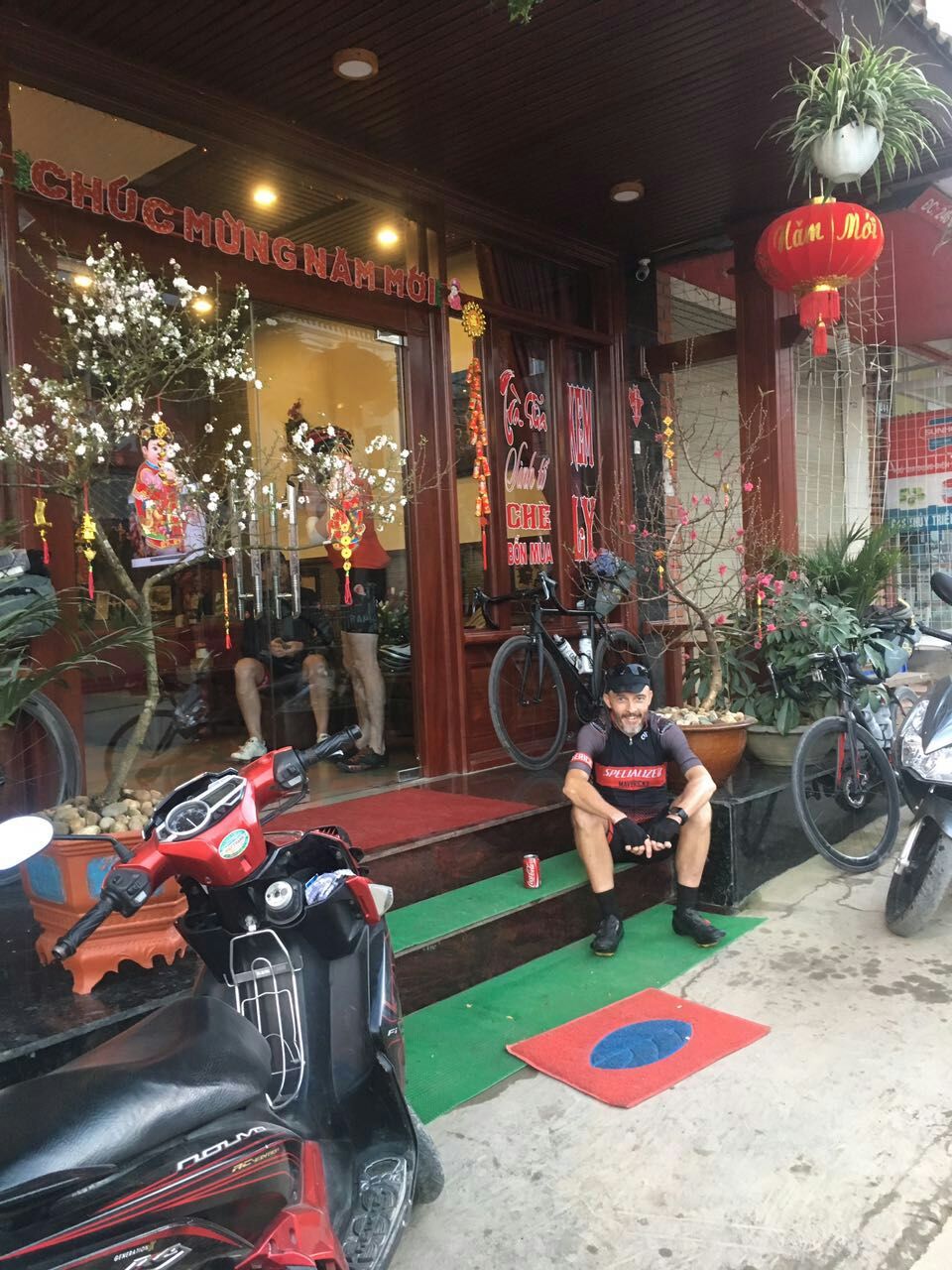 Day 4 Sapa to Sin Ho, 134km, 3,100m
Given that we were a day ahead of schedule, we afforded ourselves a relaxed morning in Sapa. We also managed to finally locate an appropriate Cock, to mark the new year.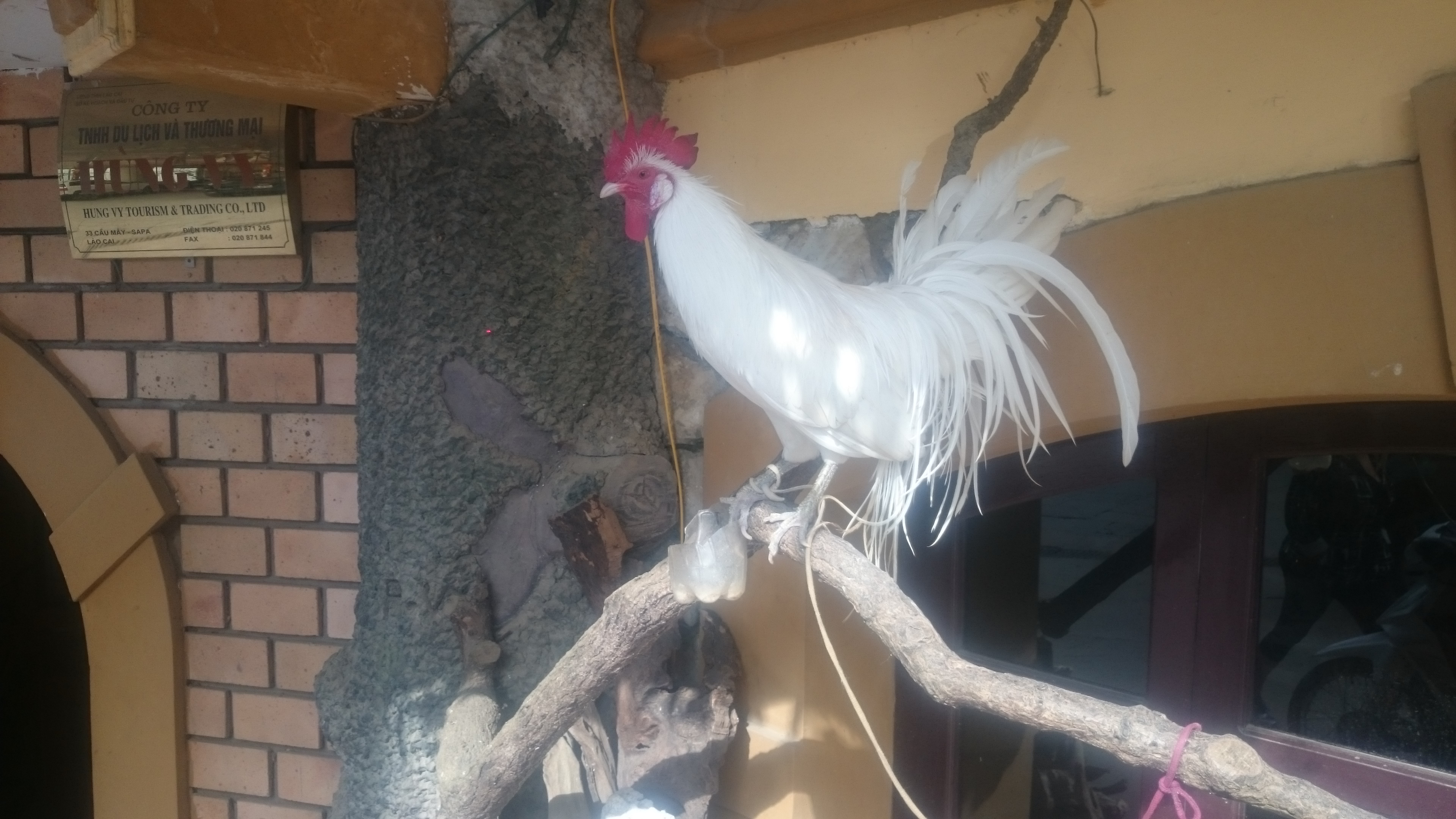 However it proved to be a flat white too many, as we departed an hour behind schedule and would face the repercussions later in the day.
The day started with more climbing, up to the O Quy Ho pass. Vietnam's highest pass and offering amazing view's up to Phan Xi Păng, Indochina's highest mountain.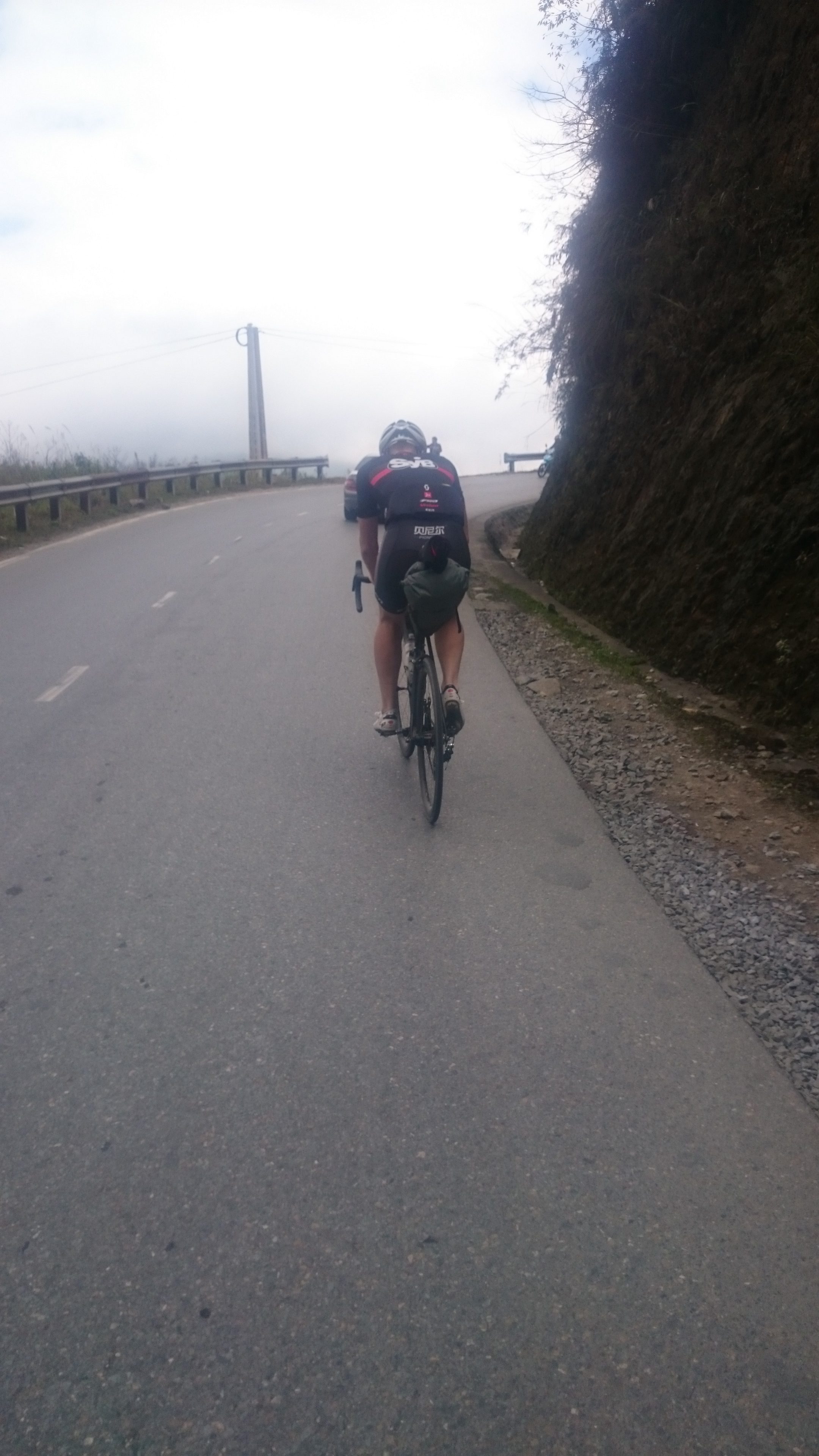 The descent down the other side, showcased the Tonkinese Alps as being just as spectacular as it's European cousin.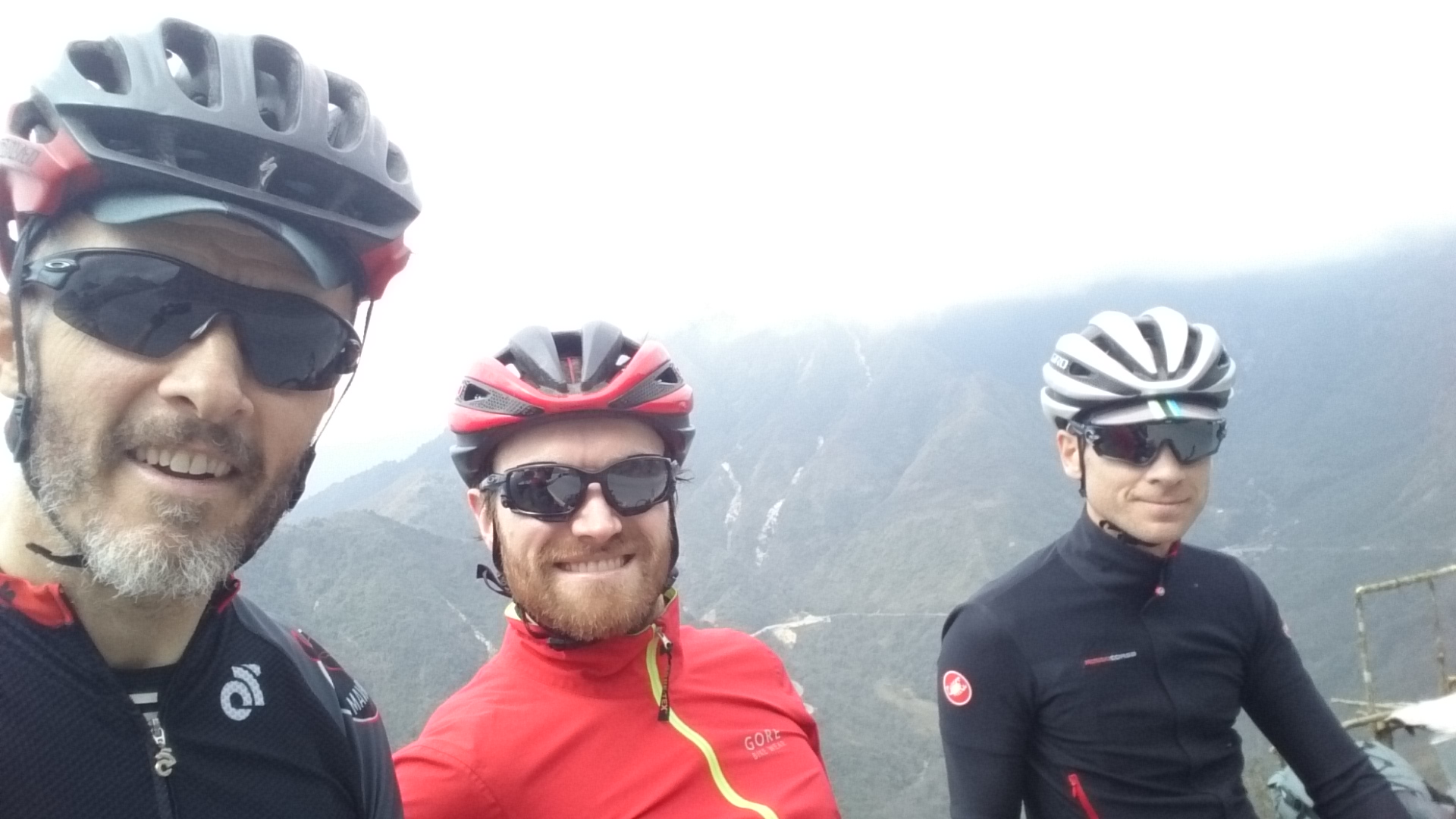 With Vietnam sharing the same lunar new year as China, we feared Tết would leave lunch options a little thin on the ground. After some confusion over a 'new' Lai Chau versus the 'old' Lai Chau, we fortunately found 'old' Lai Chau had a coffee shop open for business, so we replenished, knowing that we had another 50km of uncertain terrain and elevation gain up to Sin Ho.
The road looked like it was going through an upgrade, with some sections in great shape, whilst others making some of us very glad we were rolling with 28mm tyres.
We soon witnessed a great sunset as the sun disappeared below the horizon. Unfortunately the onset of darkness was just as dramatic and we still had 30km to get to Sin Ho.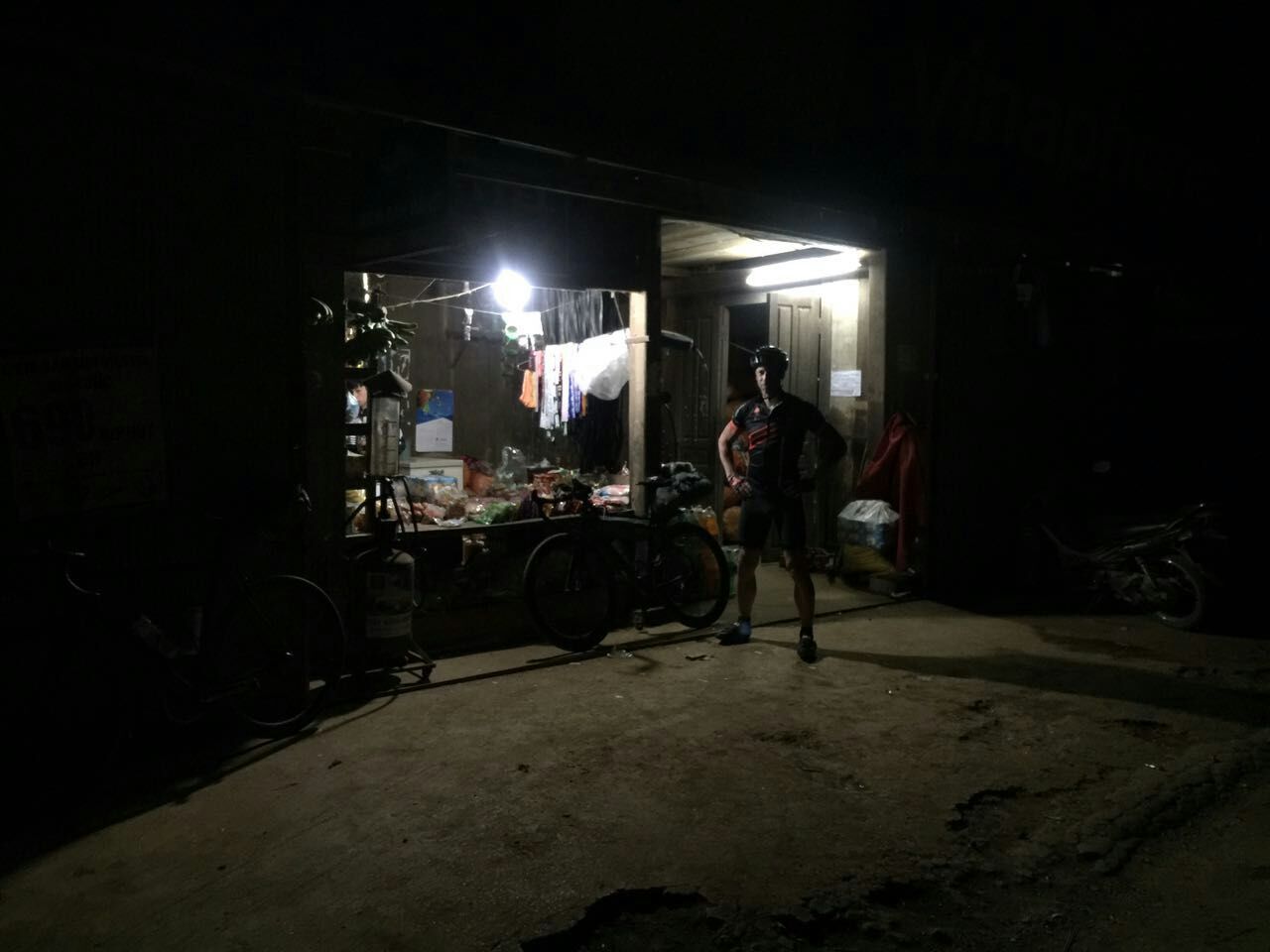 We were lucky to then have a motorbike accompany us for the last hour and help light up the road. A cold and hungry group of riders rolled into the only hotel in Sin Ho and demolished everything they could feed us!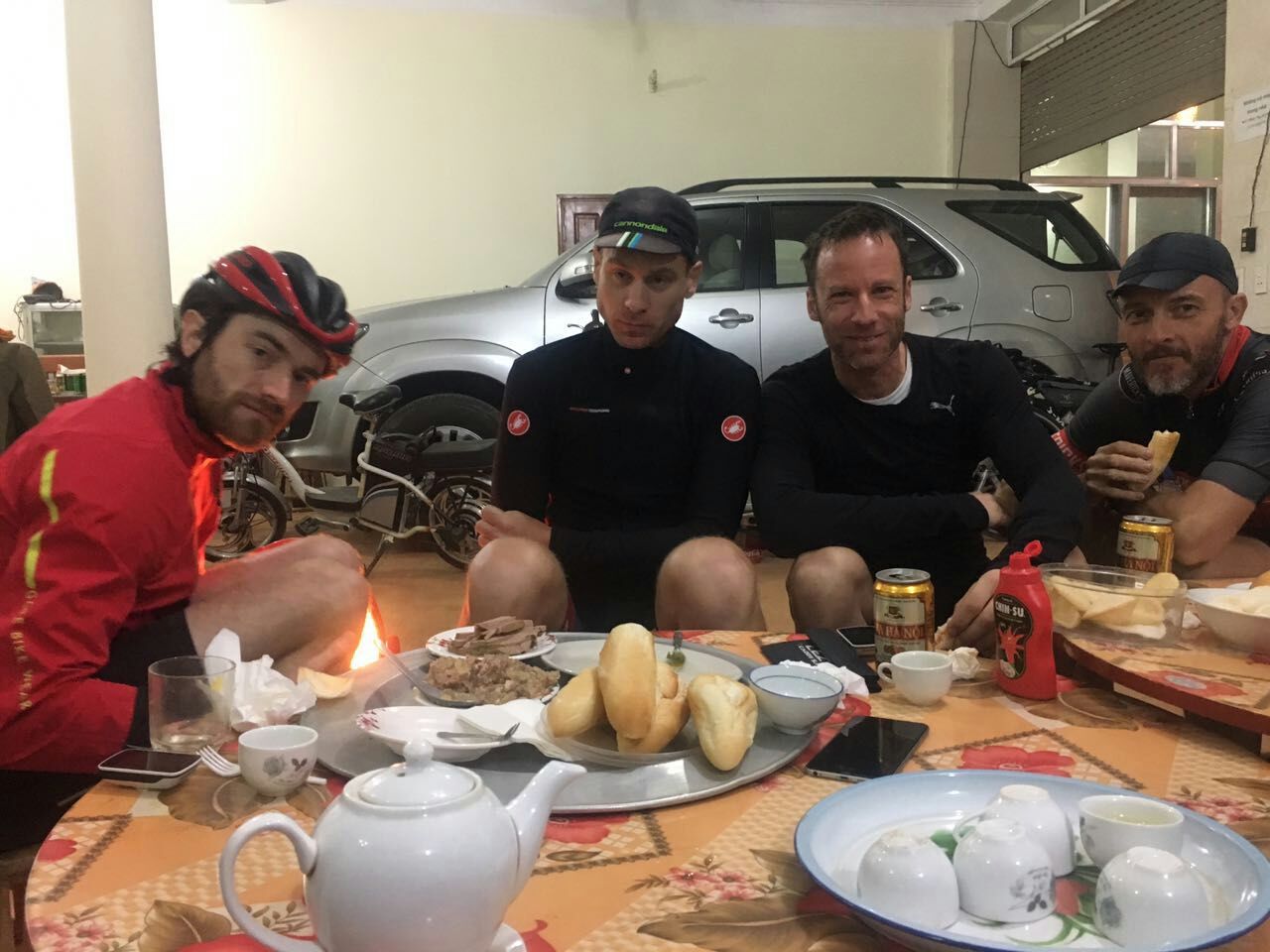 Day 5 Sin Ho to Dien Bien Phu, 157km, 2,100m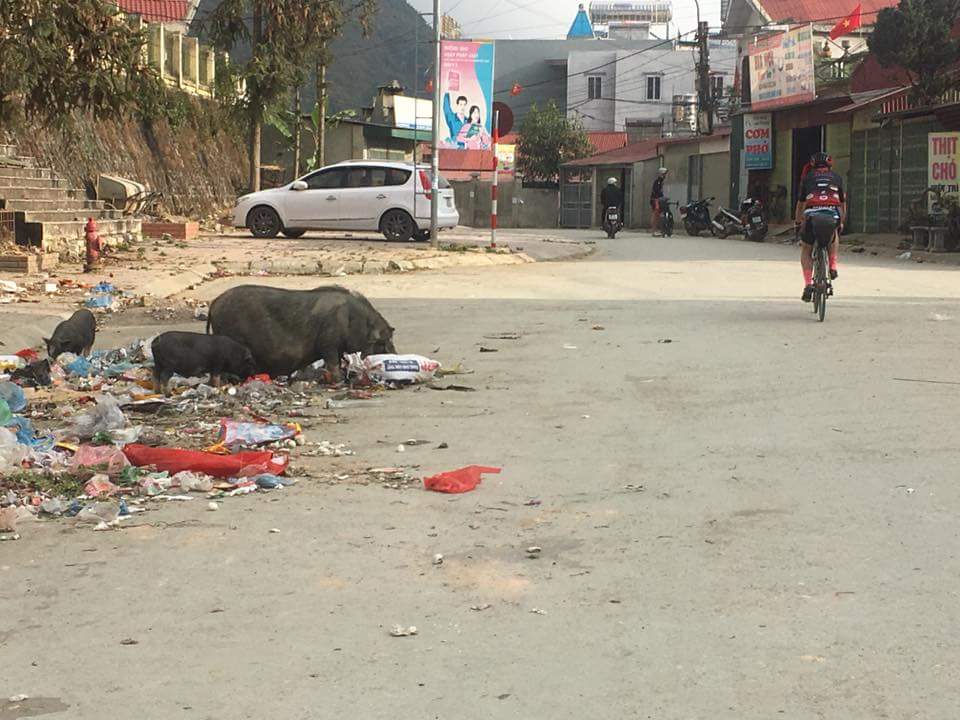 Having learned lessons from yesterday, on the perils of leaving late, we were pho'ed up and on the road early.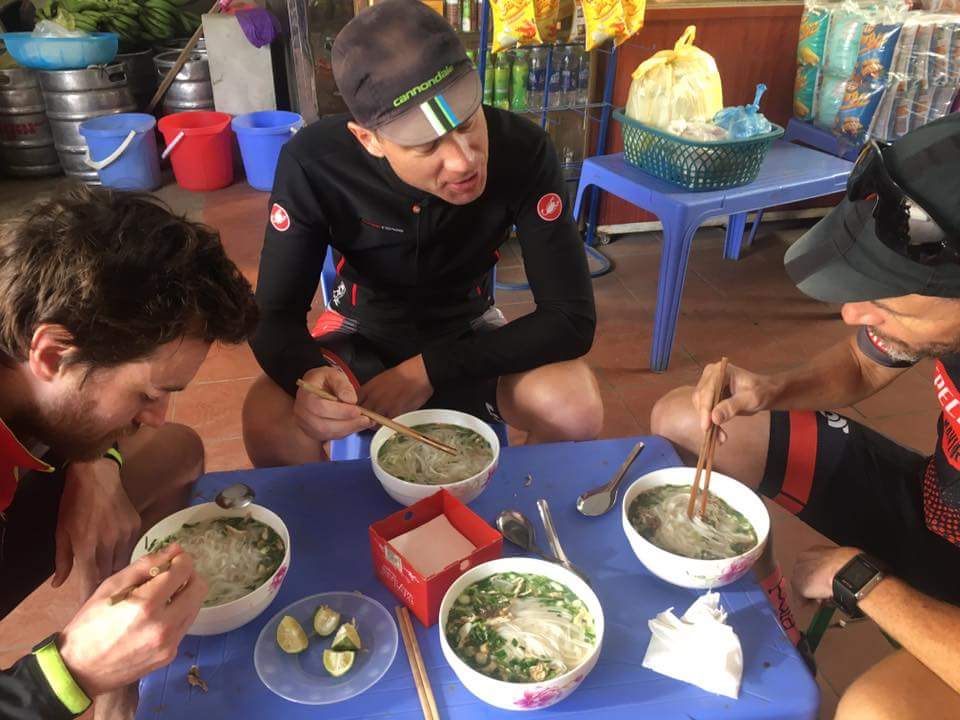 Although it was to be a fairly long day, we knew we would at least initially enjoy a nice decent downhill from the altitude of Sin Ho.
Wrong! The poor road that blighted what should have been a great decent, was a sign of the underwhelming day that was to play out.
The Vietnamese, like the Chinese, seem to have a penchant for dam building. Invariably this involves flooding towns that lie in the valley. Where the Vietnamese excel is subsequently renaming towns as a result. So we were hoping to stop at Muong Lay for lunch. This was in fact the new town that replaced 'original' Lao Chai which had been flooded and it's name passed to the 'new' town we had passed through yesterday.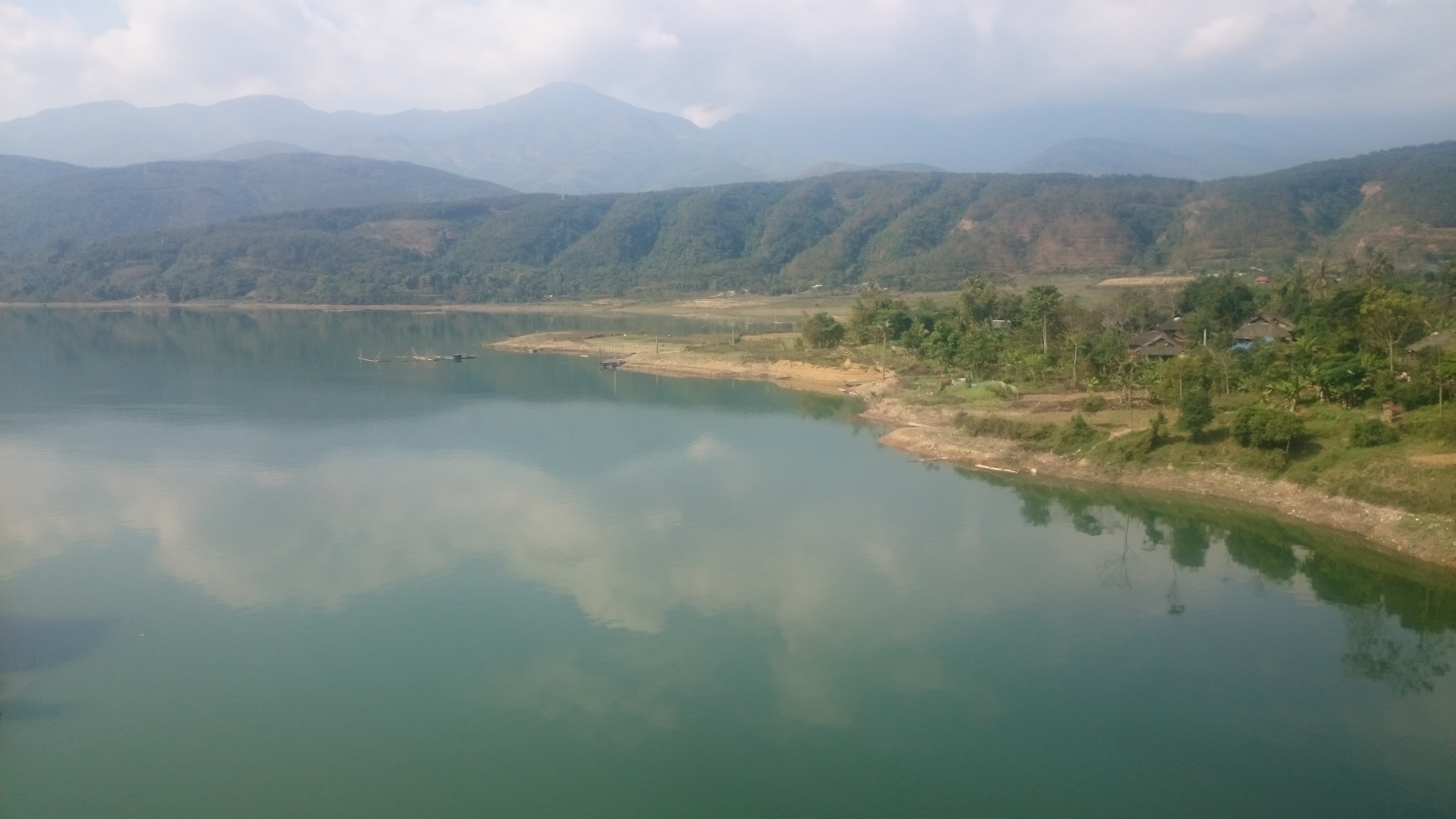 Confusing? No doubt. Ultimately we were to be both confused and disappointed. The new town of Muong Lay, perched on the edge of the new Song Da Reservior, was a characterless place, devoid of places to eat, so we had to find sustenance in a 12 pack of Choco Pies.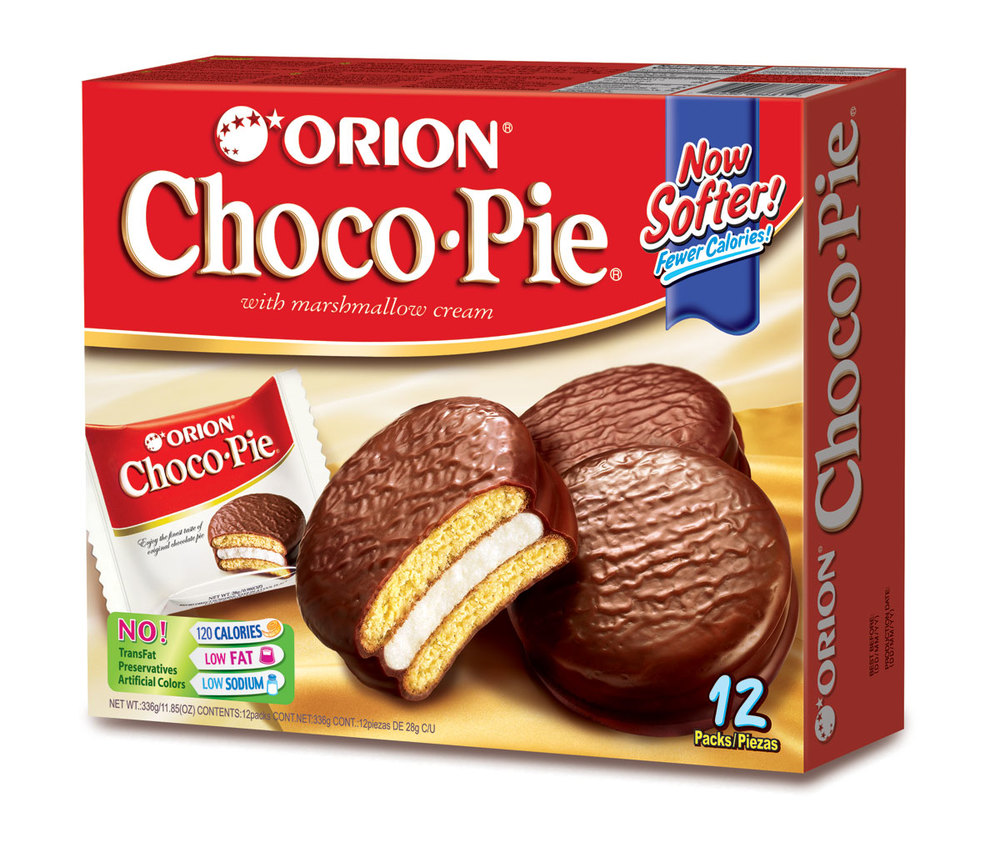 Now on the main trunk road to Dien Bien Phu, this turned out to be average at best. Akin to some of worst roads we had seen in Yunnan, but without a bail out option of jumping on the highway.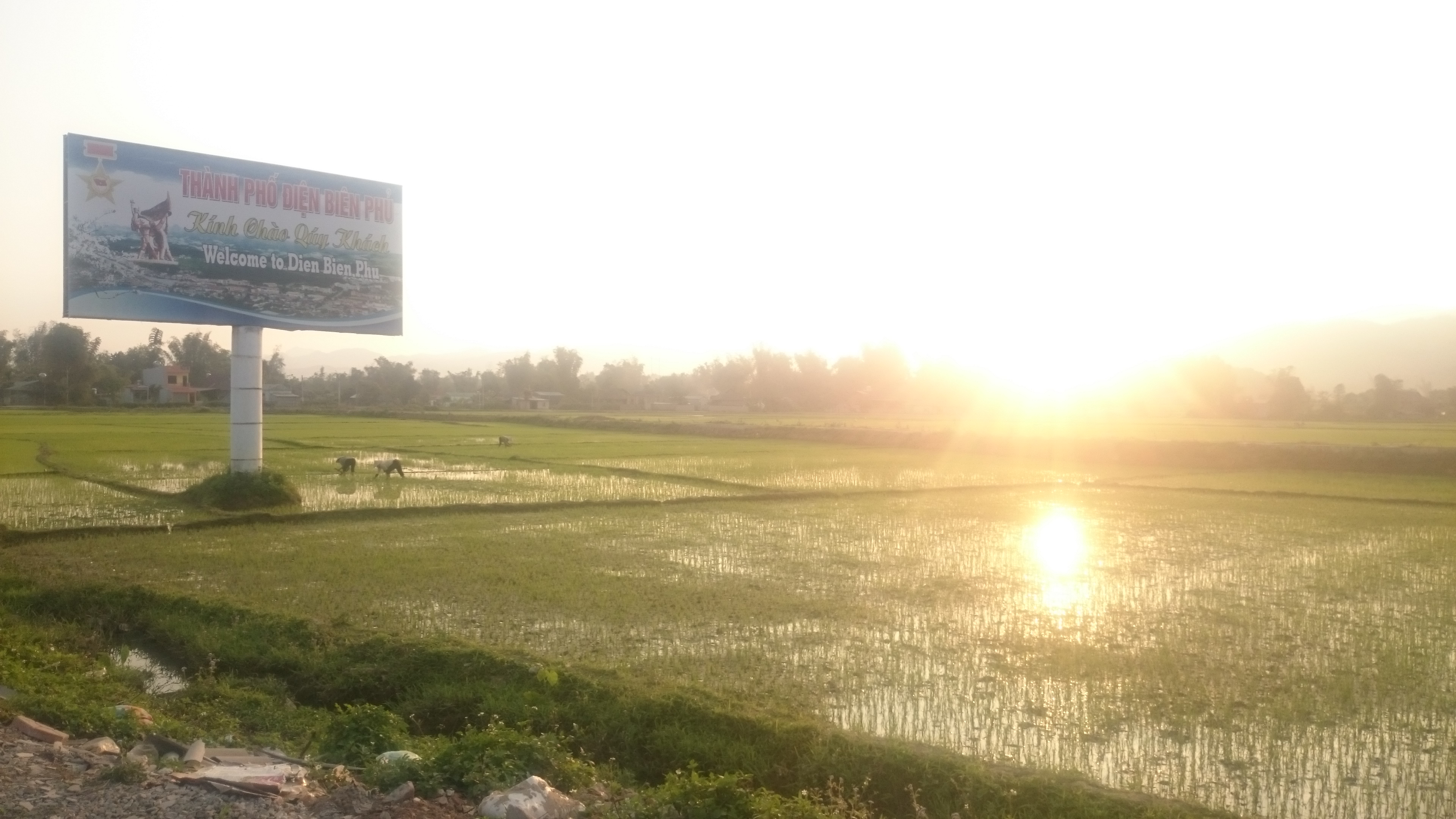 We decided to reward ourselves, when eventually landing into Dien Bien Phu, after the most average of days, with what smelt like a great BBQ establishment. Suffice to say it summed up our day, by serving up the most skankiest cuts of 'meat', which one wouldn't really give to ones dog.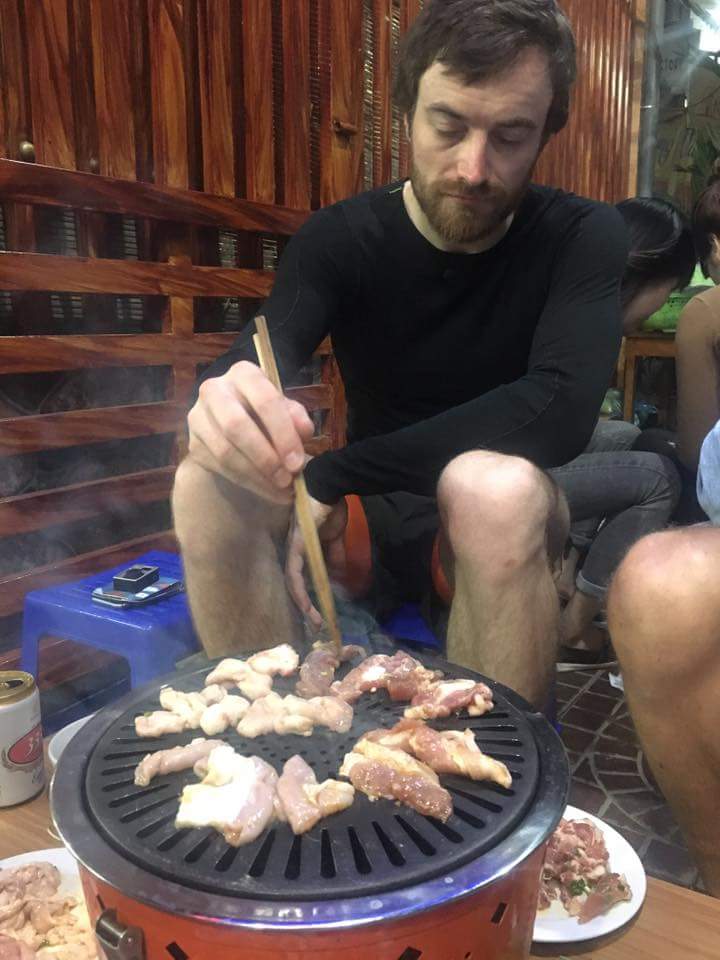 Day 6 Dien Bien Phu to Muang Khua, 102km, 1,800m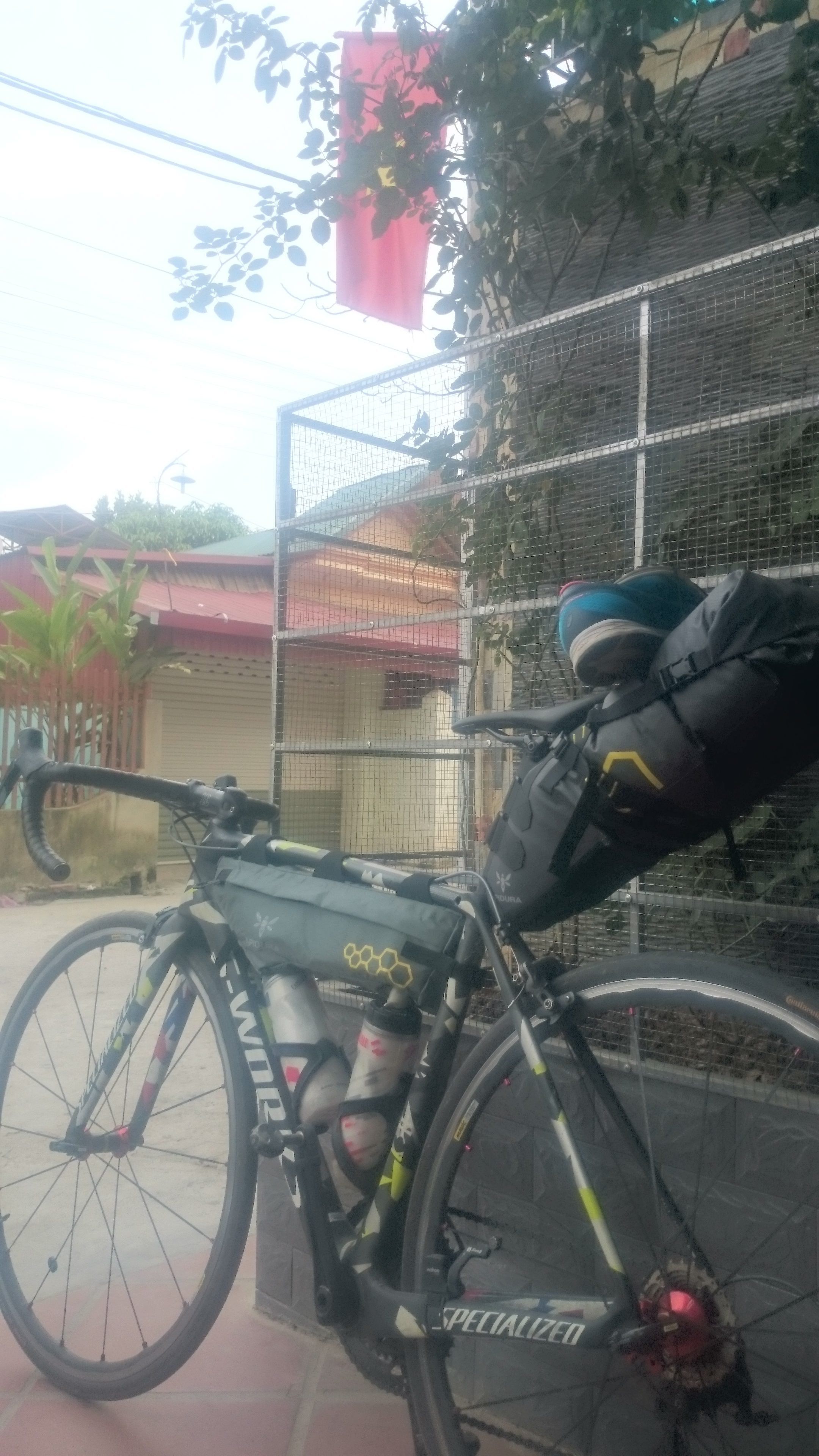 Day 6 would surely be better, as we bid farewell to Vietnam?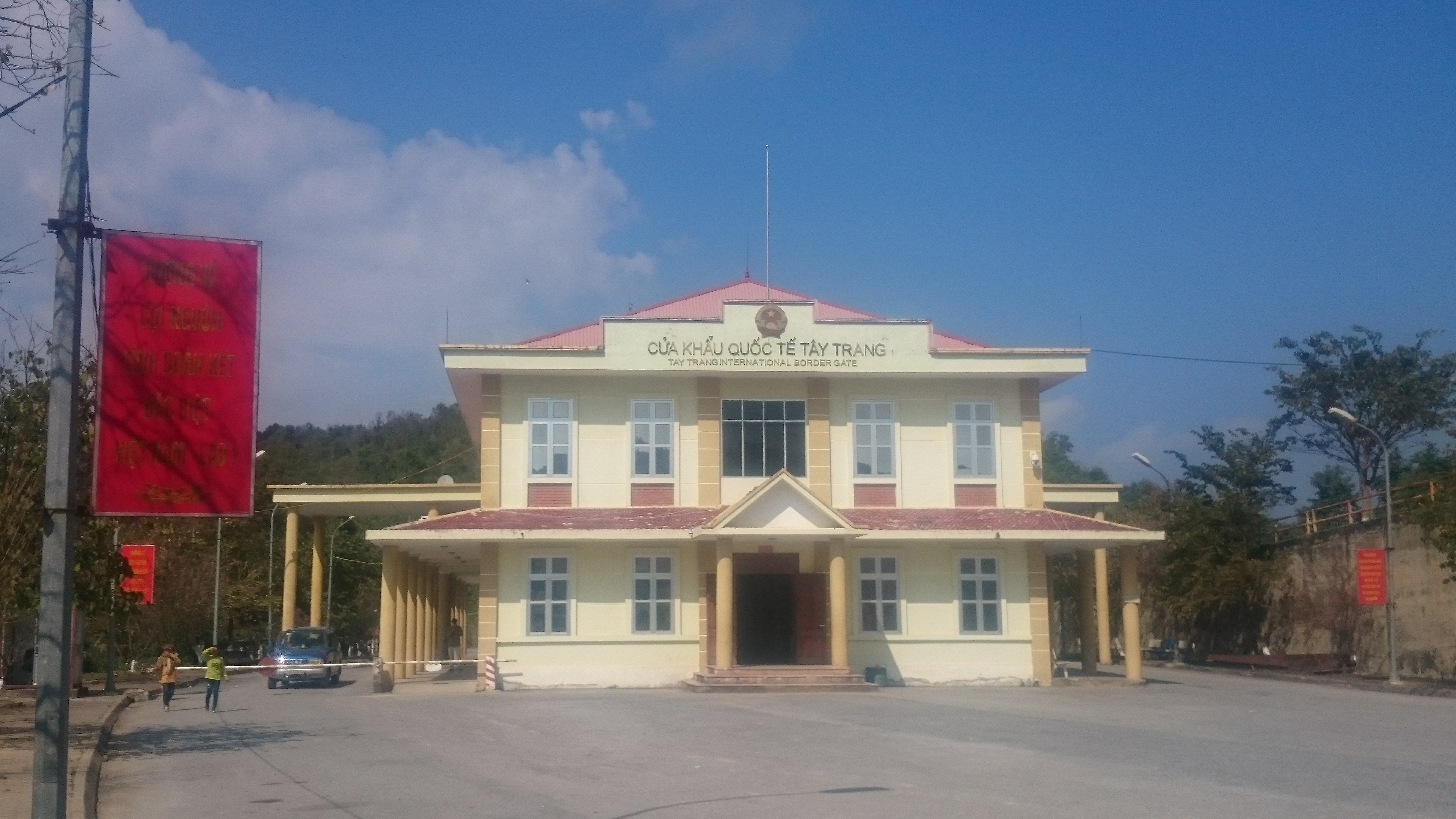 The riding certainly was, with a great climb up to Tay Trang on the Laotian border. After stopping for one last pho, we headed to the Vietnamese check point to find it deserted. With time being of the essence, we opted to push on to the Laotian check point, 5km on, across no mans land.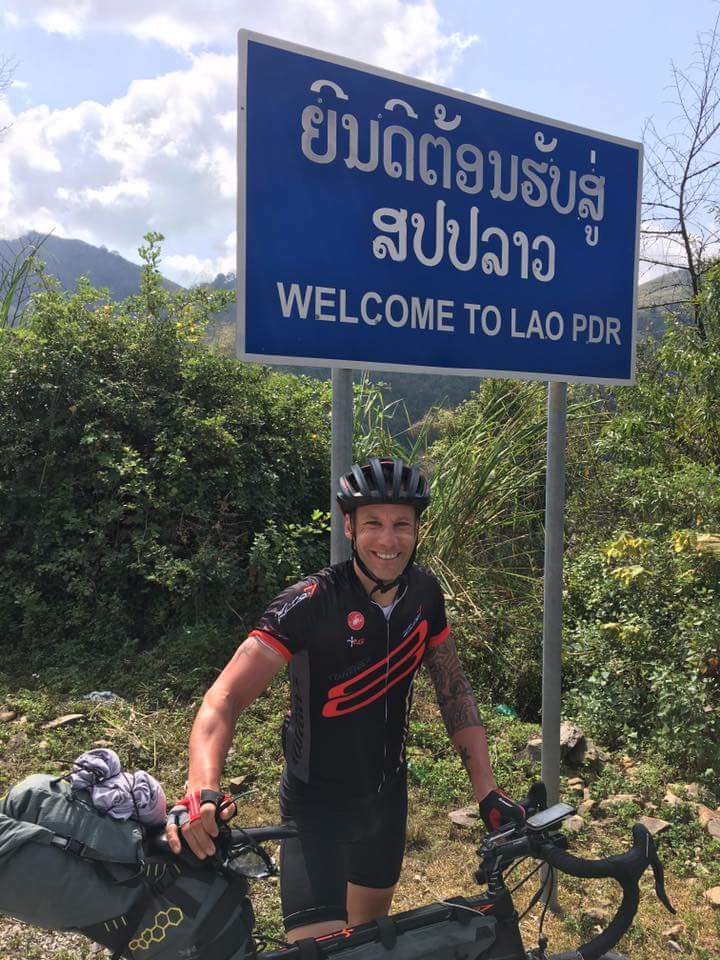 We found quite a few people waiting here, only to find that it was 'closed for lunch'. We subsequently found out lunchtime was the same reason why the Vietnamese check point had not been manned.
After waiting an hour for lunch to finish, we were then advised we would absolutely need a Vietnamese exit stamp, before being allowed into Laos. Fortunately a generous member of Communist Party of Vietnam had also been waiting to cross and offered us a lift back and forth in their CPV issued X5.
Laos proved to be a breath of fresh air. A whole lot less developed than it's Indochinese neighbour, but also not plagued by consumerism and subsequent litter that was evident all over Vietnam.
The road down from the checkpoint was superb. Great tarmac and very little traffic, but more of that latter. We had one more climb to contend with, before arriving into Muang Khua late afternoon to sample the local rehydration options.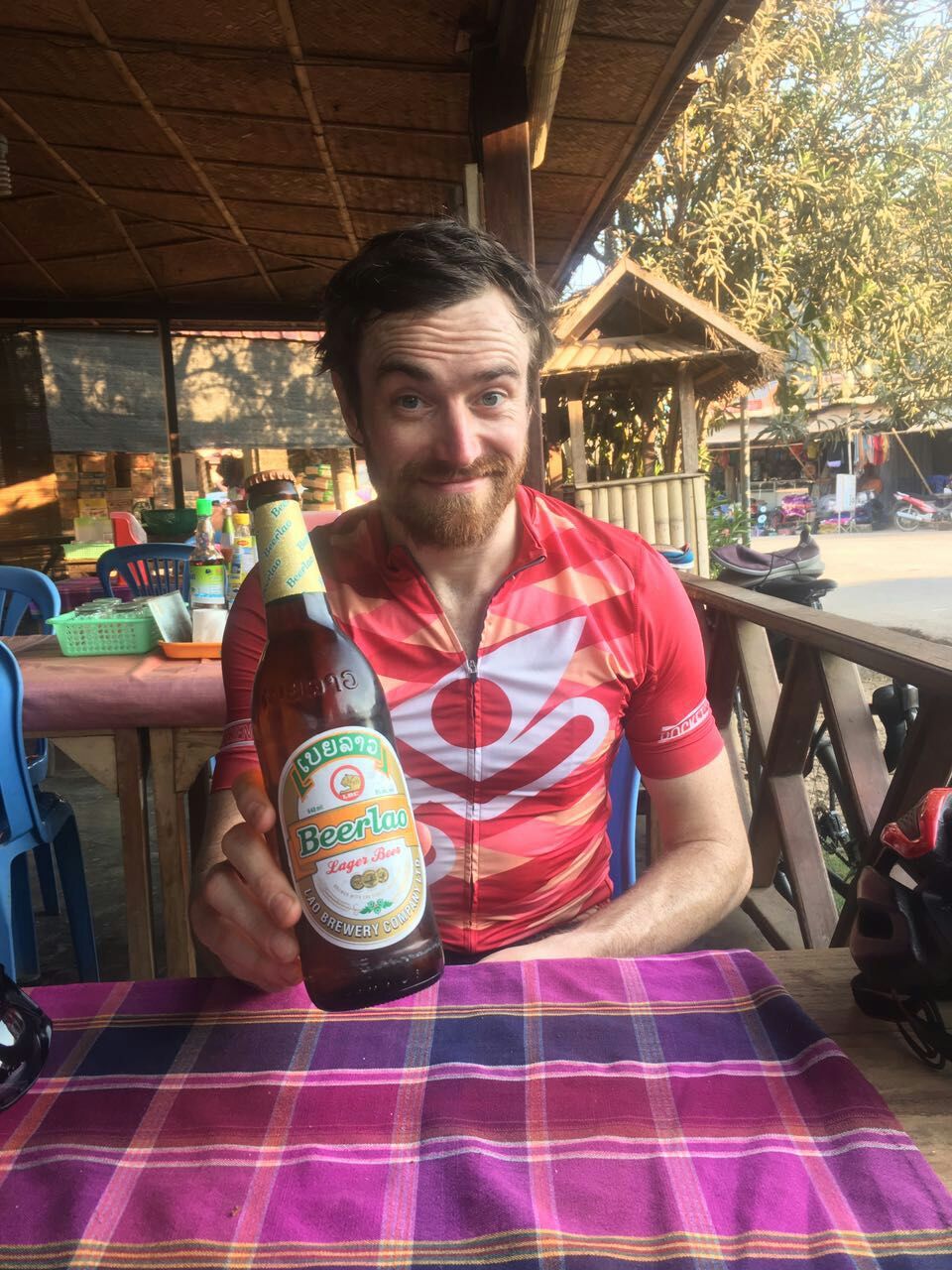 We subsequently found out that many of the roads in northern Laos had been built by the Chinese. Muang Khua also had a plethora of Chinese shops and merchants selling identical, Chinese packaged goods, no doubt trucked in on these decent roads. Everything comes at a price.
Day 7 Muang Khua to Xong Ja, 152km, 2,300m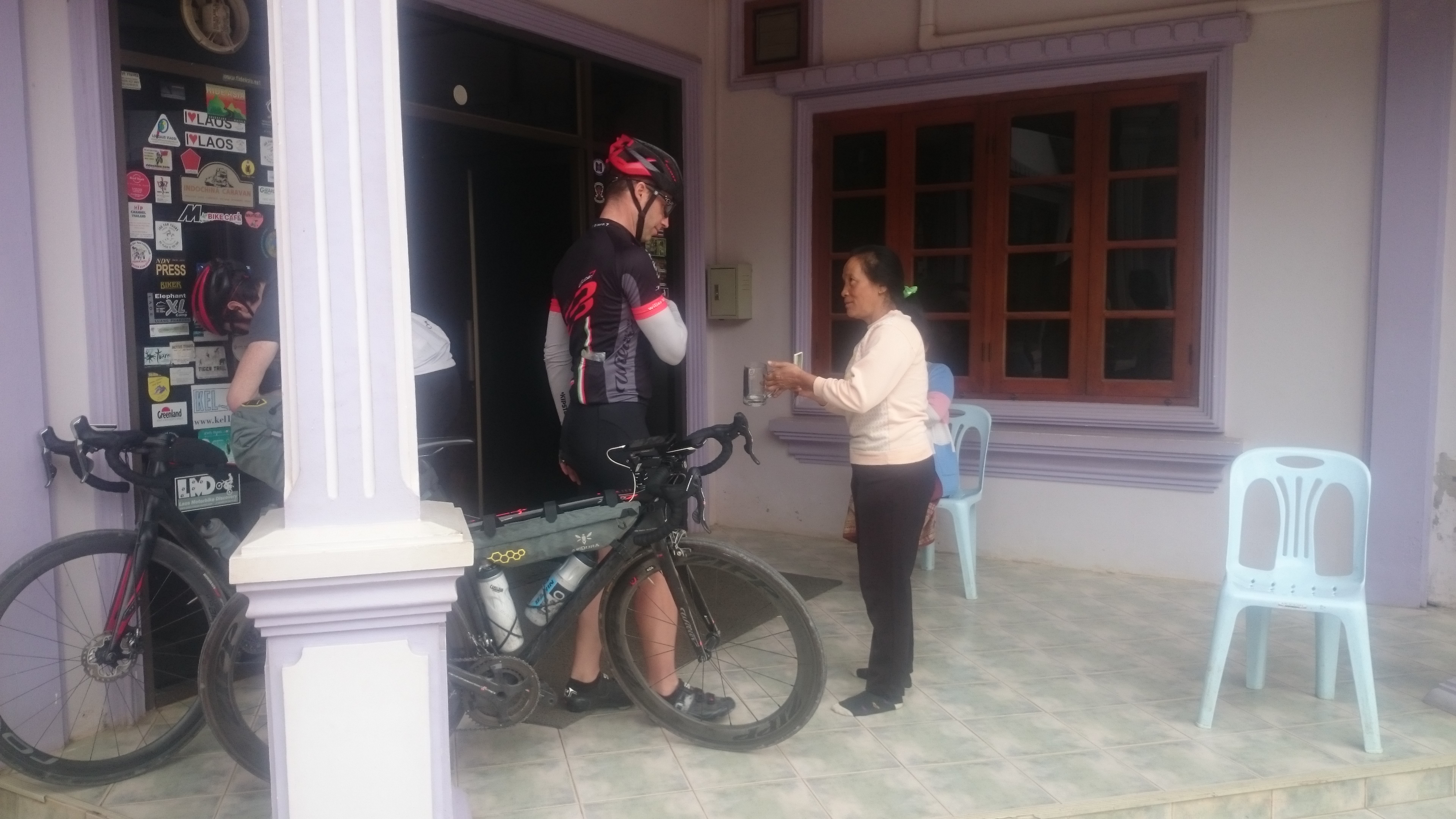 Ed was a little more time pressured than us, so had pushed on from the border the previous day, knocking out an impressive 175km. Although this had deprived our train of it's diesel engine, it did mean we had reliable intel on what was ahead, up the road.
We had a pretty flat 100km into Muang Xai, where we stopped for lunch. Laotian cuisine was a great respite from pho. Closer to Thai and with a much broader range than had been available in rural Vietnam.
With Ed's intel, we knew the serious climbing would start, after we headed east out of Muang Xai. The other good advise was to watch out for Mainland cars. These were to prove a bane for the next two days. Our route was also on the road that came down from the Chinese border, with about 70% of the vehicles sporting Chinese plates. Quite a lot of haulage, but mostly convoys of SUVs, with faux Rally stickers emblazoned on their bonnets, heading back to the border and driving with complete nonchalance.
That minor irritant aside, it was possibly the best days cycling. 50km of mostly climbing from Muang Xai, punctuated with a welcome saddle between the two peaks, along with a hill top finish at Xong Ja.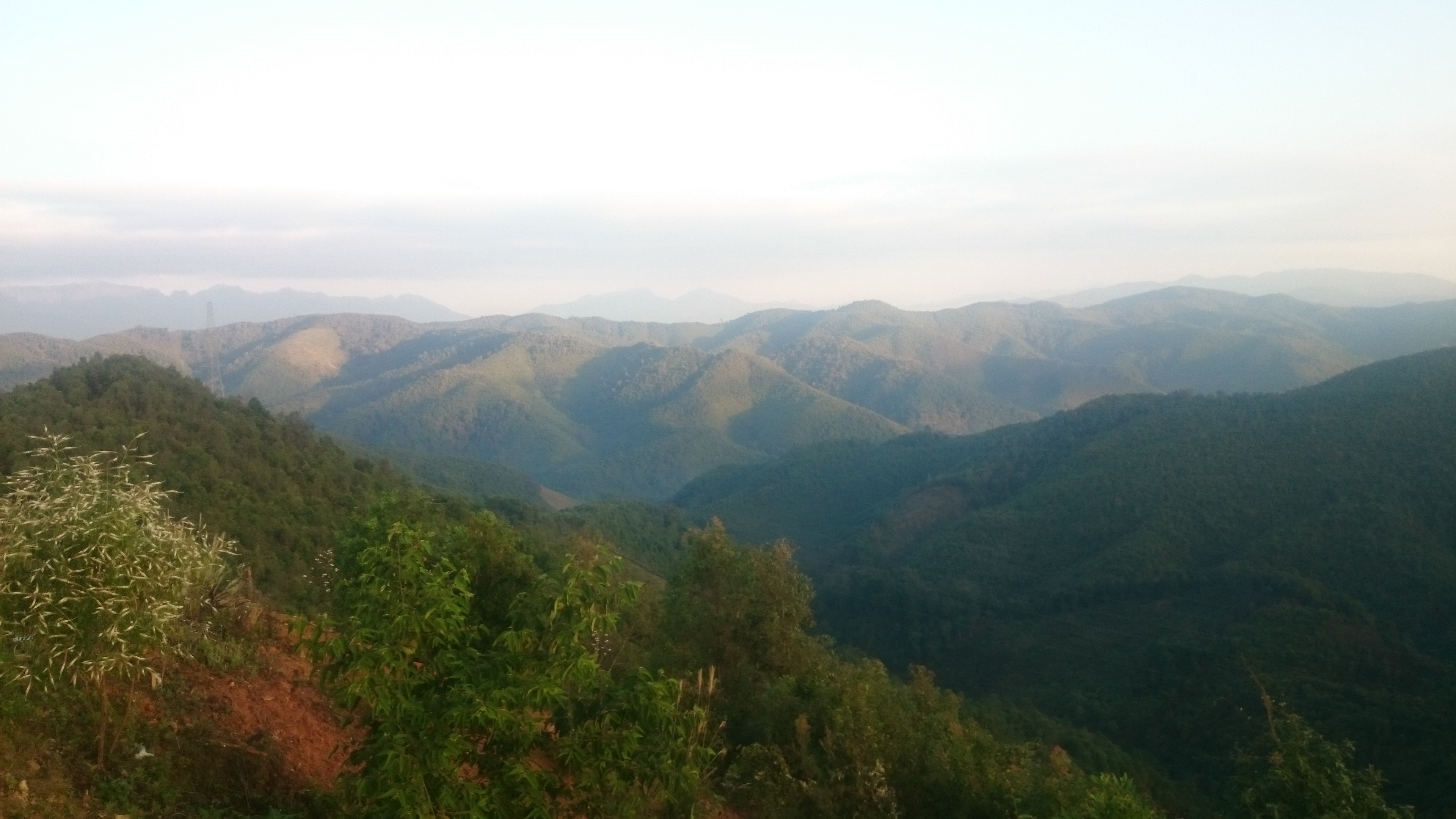 Day 8 Xong Ja to Luang Prabang, 139km, 900m
Ed had already made it into Luang Prabang the previous day, with a sterling 220km ride. With his lowdown we knew we definitely had a good descent to start the day off.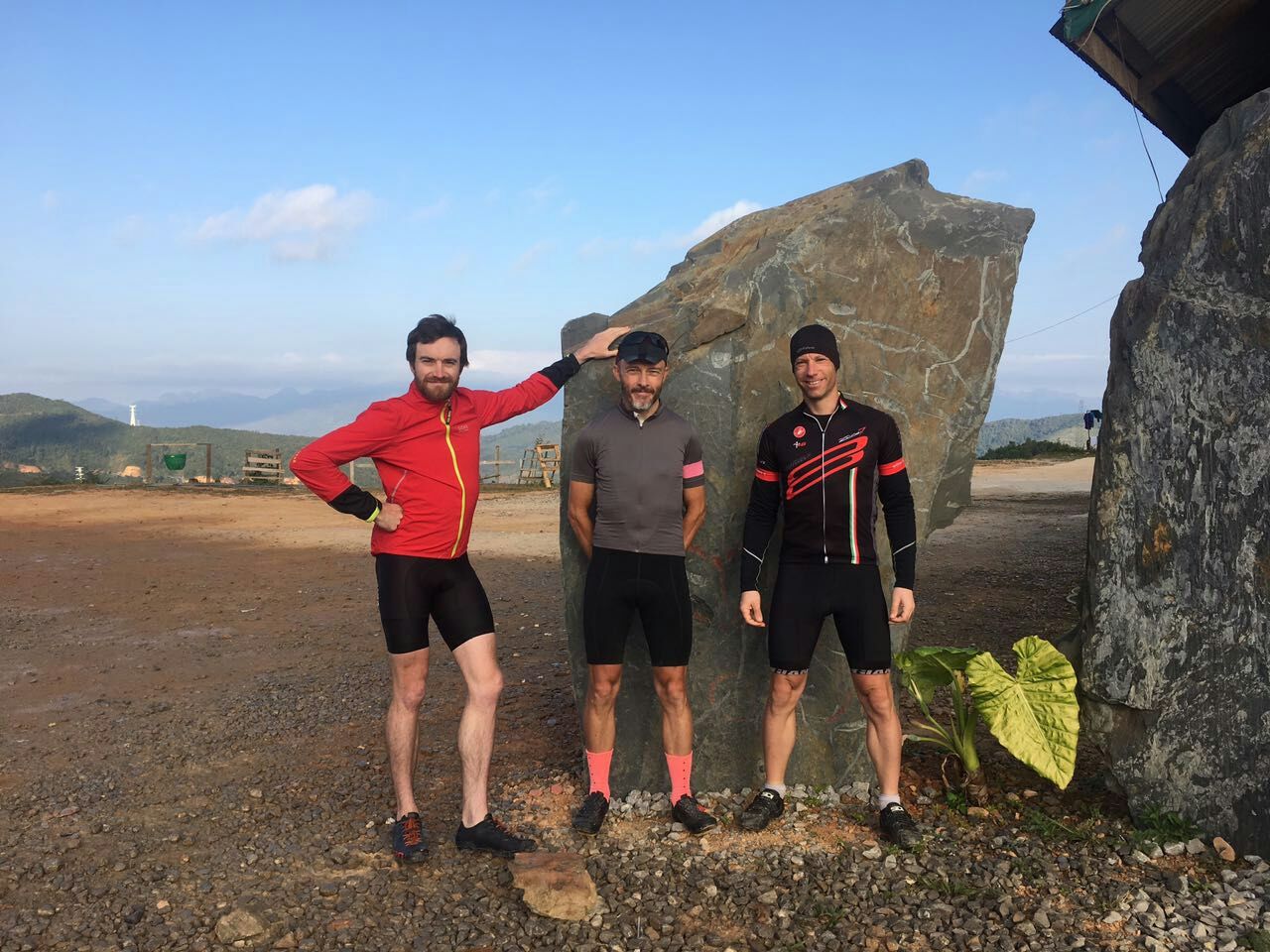 And so we set off for the final day. Not only did we know we had a welcome first 30km, but also the final day was scheduled to have the least amount of climbing.
A very pleasant descent ensued down to Pak Mong. Impeccable roads and privileged to be able to watch the sun slowly climb up above the clouds.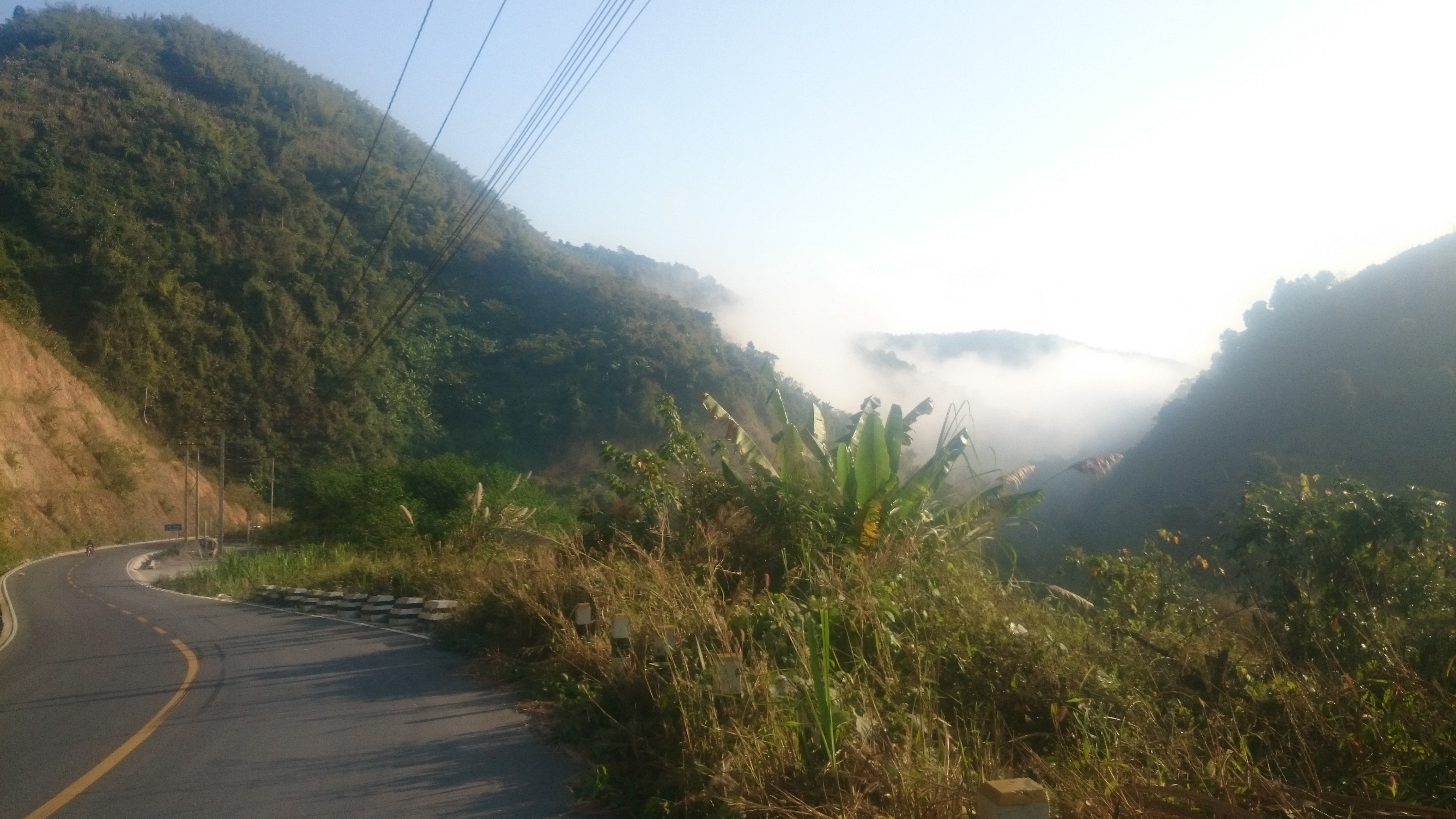 Unfortunately the great Chinese roads were to end at Pak Mong. Only to be replaced by the great Chinese convoy of 'rally' drivers heading north. Same as yesterday, these rally participants were to plague us all the way to Luang Prabang.
Eventually the mighty Mekong came into view and we rolled into Luang Prabang. We were in awe of the vast majority of dining options, so spent rest of day recouping as many calories as we could.
Cardboard bike boxes were also procured, removed the last hurdle and ensuring a relaxing few days could be spent in Luang Prabang.